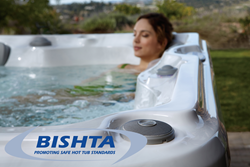 BISHTA Promotes Safe Hot Tub Standards
(PRWEB UK) 2 April 2018
There is a growing trend for some online companies supplying hot tubs to mislead consumer purchases, and this can lead to heartbreak, lengthy or unresolved consumer disputes and sadly sometimes safety dangers. Buying from an online marketplace or social media pages also raise concerns. The British and Irish Spa and Hot Tub Association (BISHTA) is alerting consumers of the risks, that the products they are considering buying (or hiring) may not be guaranteed to come from a reputable source.
BISHTA's core aim is to 'promote safe hot tub standards' and advises consumers that with a high-ticket item, such as a hot tub, it is important to know 'what's under the bonnet' (or behind the casing, when it comes to hot tubs). Unfortunately, there are hot tubs on the market that look the 'real-deal' on the outside, but inside the casing, the hot tub is of lower quality (and in some cases may not be up to standard). In extreme situations, they could potentially be dangerous. Repairing problems may not always be straightforward if parts are hard to source and expensive to replace. However, the most concerning issue is that these cheaply manufactured products have the potential to cause harm through entrapment, electrocution and fire. A terrible thought, when in most cases, equipment purchased from a reputable retailer will be a great addition to a household that can bring the whole family fun, relaxation and health benefits.
BISHTA believes that customers should always be able to make an informed choice about the products they purchase and does not endorse or support any companies who seek to mislead customers regarding the products they sell. Chris Hayes (BISHTA Managing Director) Commented "BISHTA expects its members not only to provide products that meet industry standards but also to abide by its Code of Ethics. Our advice to consumers is to always seek further information (in writing) from the company supplying the hot tub regarding the country of manufacture, as well as information on safe installation, set-up, future care and maintenance".
BISHTA offers an easy way to buy or hire a hot tub, visit the trade associations website http://www.bishta.co.uk to find companies who have been approved by BISHTA, always look for the BISHTA logo on the company website and paperwork. Ask the company if they are currently a BISHTA member and check with BISHTA for the companies membership. If consumers are ever unsure or need some guidance BISHTA offer impartial advice from their head office by emailing admin(at)bishta.co.uk or by calling 01264 356211