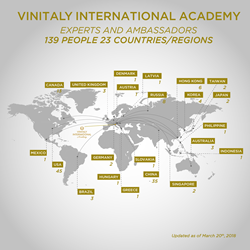 "Italy is one of the most fascinating wine countries, full of jewels to discover, historical backgrounds to understand, flavours to feel and remember, subtleties to spot, visions to share. VIA offers a unique opportunity to get to grips with such precious knowledge." Pedro Balesteros Torres MW
(PRWEB) March 29, 2018
With less than a month to go, Vinitaly already starts on April 6th with the 9th edition of the Vinitaly International Academy (VIA) Certification Course in Verona, Italy. VIA—the one and only Italian wine certification course focusing on the diversity of Italian wine and its native grapes—is the first event to open the Vinitaly International's "two-week marathon" of gatherings prior to the exhibition itself.
After touring 2 American cities (New York City, San Francisco) and 3 Chinese cities (Beijing, Shanghai and Chengdu), VIA comes back home to Verona—the city where it was first launched just before Vinitaly 2015. The April 2018 session (from April 6th to 10th) will mark the 9th edition welcoming more than 60 international trade professionals from 20+ different countries: Belgium, Brazil, Canada, China, Croatia, Czech Republic, France, Germany, Hong Kong, Mexico, New Zealand, Norway, Russia, Singapore, Slovakia, Sweden, Taiwan, Turkey, UK, and United States.
VIA is unique not only for the deep focus on the biodiversity of Italian wine and its native varieties, but also for the international community of its students. To this day, VIA counts 9 Italian Wine Experts (the highest qualification) and 130 Italian Wine Ambassadors and its community is growing exponentially. Moreover, the level of the candidates seems to get higher and higher during every edition, with a wide range of professions showcased by participants from every subarea of the wine industry. Perspective candidate Yanhua Yang, who works as representative of the educational branch for COFCO in China, explains the importance the course has for him: "Becoming an Italian Wine Ambassador would allow me to further spread the knowledge and appreciation of Italian wines in my country and abroad." Pedro Balesteros Torres, a well experienced MW and the General Chairman at 5StarWines this year, will also take the challenge for the first time. He describes the VIA certification course as a new channel to learn further proficiency in wine: "Italy is one of the most fascinating wine countries, full of jewels to discover, historical backgrounds to understand, flavours to feel and remember, subtleties to spot, visions to share. VIA offers a unique opportunity to get to grips with such precious knowledge." Leonid Fadeev, a WSET diploma holder and the only qualified Magister Sommelier so far in Russia is also a first time candidate. He also confirms, "Italy is a unique wine country in terms of wine history, diversity and growing quality. I would like to spread this message through the world."
The Certification Course comprises a week of training with internationally renowned wine critic Dr. Ian D'Agata and a challenging final exam held at the end of the 5 days. We would like to thank the Italian Trade Agency for their support as part of their mission to promote Italian wine around the world. Results of VIA's Verona edition will be announced on April 10th.
For more details about the VIA Certification Course and current Italian Wine Ambassador's BIO:
https://www.vinitalyinternational.com/?page_id=663
About:
Veronafiere is the leading organizer of trade shows in Italy including Vinitaly (http://www.vinitaly.com), the largest wine and spirits fair in the world. During its 51st edition Vinitaly counted more than 4,270 exhibitors on a 100,000+ square meter area and 128,000 visitors from 142 different countries with more than 30,000 top international buyers (up by 8%). The next edition of the fair will take place on 15 - 18 April 2018. The premier event to Vinitaly, OperaWine (http://www.operawine.it) "Finest Italian Wines: 100 Great Producers," will unite international wine professionals on April 14th in the heart of Verona, offering them the unique opportunity to discover and taste the wines of the 100 Best Italian Producers, as selected by Wine Spectator. Since 1998 Vinitaly International travels to several countries such as Russia, China, USA and Hong Kong thanks to its strategic arm abroad, Vinitaly International. In February 2014 Vinitaly International launched an educational project, the Vinitaly International Academy (VIA) with the aim of divulging and broadcasting the excellence and diversity of Italian wine around the globe. VIA this year launched the fourth edition of its Certification Course and today counts 130 Italian Wine Ambassadors and 9 Italian Wine Experts.