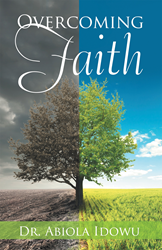 JACKSONVILLE, Fla. (PRWEB) April 02, 2018
Written in response to faith being misunderstood by many, Dr. Abiola Idowu provides readers with the knowledge and resources needed on the path towards greater spiritual awareness in his book "Overcoming Faith."
Dr. Idowu believes that everything man needs has already been packaged by God, because everything in the physical has a spiritual root. As a result, faith is what takes people into the realm of the spirit.
"When I read the book of Acts in the Bible, I saw how people's lives were transformed," said Dr. Idowu. "Then I discovered that right here on earth, most people are not living according to the scriptures, which is when I started thinking that there must be something missing."
In this book, readers will learn how to release God's promises into their hands, how to live a life of godliness, how to walk in health, and how to recognize grace in life.
"Overcoming Faith"
By Dr. Abiola Idowu
ISBN: 9781973601272 (softcover); 9781973601289 (hardcover); 9781973601265 (eBook)
Available at the WestBow Press Online Bookstore, Amazon, and Barnes & Noble
About the author
Dr. Abiola Idowu has ministered all over the world, including Denver, New York, Chicago, and Europe. He is the founder of Canaanland World Outreach in Nigeria, the arm for believer's conferences where saints are matured in the Word of God and Leadership Teachings. Dr. Idowu also founded a Mission Outreach Orphanage in Nigeria for the less privileged, helping the homeless and addicted. This orphanage provided food, clothing, and funding for the upkeep. They had approximately 25 kids there at that time and provided computers and other school supplies. To learn more, please visit http://www.overcomingfaithbook.com.
General Inquiries:
LAVIDGE – Phoenix
Bryan Beach
480-306-6554
bbeach(at)lavidge(dot)com
Review Copies & Interview Requests:
LAVIDGE – Phoenix
Kiersten Woglom
480-998-2600 x 586
kwoglom(at)lavidge(dot)com