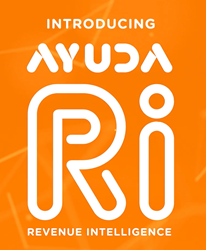 LAS VEGAS (PRWEB) March 29, 2018
Ayuda Media Systems ("Ayuda"), an out-of-home ad tech company announced today at the 2018 Digital Signage Expo that it will be demonstrating the first of many revenue-optimization- centric features that constitute the next evolution of Ayuda's complete business operations platform for D/OOH media owners. Leveraging Ayuda's advanced optimization algorithms, the Revenue Intelligence (Ri) platform will analyze the day-to-day operational, sales, and finance data that is already managed in the Ayuda Platform to increase overall yield to the media owner.
The first Ayuda Ri offering is available immediately to digital (DOOH) media networks as a fully programmatic-ready CMS and player that can play content from multiple sources, with intelligence about the order interplay between both direct sales and programmatic sales efforts. Ri prioritizes programmatically delivered content without the need to reserve a spot in the loop. The DOOH network's existing direct sales effort has full unrestricted access to the entire loop capacity, as Ayuda Ri waterfalls between content from direct sales and content from programmatic sales when available.
Daniel Fleischer, Ayuda's Vice President of Business Development and Marketing explains: "Ayuda's platform provides a state-of-the-art, open ecosystem programmatic-ready player that intelligently optimizes yield by ensuring that content from any number of programmatic sources can be played without having to dedicate a reserved spot in the loop. Ayuda Ri employs a waterfall mechanism that plays content from direct sales, followed by content from external programmatic sources such as Hivestack or any commercially available VAST or HTML source. The DOOH network's business rules are defined in the Ayuda Platform, which then govern how best to inject the programmatically sourced content."
The waterfall content playback is only the first step in the overarching Yield Optimization challenge that Ayuda Ri addresses. The Ayuda Platform, used by many of the world's largest OOH media owners already to manage all aspects of their ad operations, already holds much of the sales, occupancy and general business data against which optimization calculations can be performed. Ri unlocks the power of the day-to-day operational data and transforms it into valuable insights which hold the potential to increase occupancy and rates, thus increasing yield.
Fleischer concludes: "We now turn attention to unlocking the power of the business data that is already managed by the Ayuda Platform. Expect to see Ayuda begin tackling elements that only a complete solution such as Ayuda's can attempt, under the Ri banner. These include, for example, dynamic rate cards, campaign planning optimization, occupancy and rate optimization, and lessor prioritization. Optimizing against all the elements simultaneously is of course the holy grail of an ultimate yield management platform for OOH. That's Revenue Intelligence."
About Ayuda Media Systems
Ayuda is an ad tech company specializing in OOH business optimization. The Ayuda Platform is used globally by some of the world's largest OOH companies to manage day-to-day business operations. It includes an end-to-end ERP specially built for OOH, a fully native ad-based digital signage platform, and programmatic integrations that enable OOH media companies to tap into new digital revenue streams and modernize their trading models. Ayuda is a proud member of the DPAA, OAAA and FEPE.
For more information, visit http://www.ayudasystems.com