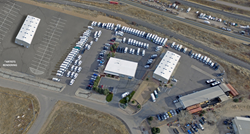 This acquisition allows us to launch into our next phase of expansion.
DENVER (PRWEB) April 03, 2018
Davey Coach Sales and its sister company DCS America announced today the acquisition of Intermountain Coach, located in Colorado Springs, CO. Intermountain Coach has been a dealer and lessor of mid-size buses in the Rocky Mountain Region for over 20 years. Its robust lease and short-term rental business will be a great addition to the lease business of DCS America (dba Cornerstone Bus Leasing) and allows it to increase its service footprint to better serve clients throughout the region.
Several employees, including industry veteran Steve Francom, of Intermountain Coach will join the Davey Coach Sales team. Francom brings his 28 years of bus sales and rental experience, joining two other industry experts, CEO Tom Davey and newly appointed President/COO John Walsh.
Walsh said, "Steve and his team are a great addition to our core staff. Their knowledge and experience will help us fully establish our regional strength. This acquisition allows us to launch into our next phase of expansion."
Tom Davey agrees, "Bringing two powerhouses together, like Davey Coach and Intermountain Coach, allows us to further our mission by strengthening our capabilities and broadening our reach. We couldn't be more pleased to offer our full range of bus products and services to a new customer base, while growing in our existing markets."
About Davey Coach Sales
Representing over 16 manufacturers, Davey Coach Sales (http://www.daveycoach.com) has been one of the leading dealers of new and used buses in North America since 1992. Davey Coach Sales is consistently awarded Top Distributor honors by customers and manufacturers alike for 20 years. As the leader in the Specialized Transportation Vehicle Industry our emphasis on quality and customer satisfaction continues to stimulate our growth. Davey Coach Sales is a portfolio company of Progress Equity Partners, a Denver-based private equity investment firm. The principals of Progress Equity are relationship driven, long-term investors and have been partnering with owners and management teams to build industry leading companies since 1993 (https://www.progressequity.com).