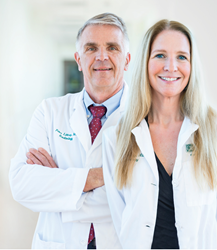 Breast cryoablation is virtually pain-free under local anesthesia and has some of the best healing profiles of any localized treatment.
(PRWEB) April 02, 2018
The Center for Breast Health at Ascension Crittenton Hospital has announced that it is enrolling patients in the FROST Clinical Study, "Freezing Alone Instead of Resection of Small Breast Tumors: A Study of Cryoablation for the Management of Early Stage Breast Cancer."
The FROST Study is a phase II single-arm multicenter clinical trial that examines the use of cryoablation as an alternative to surgical resection for the management of primary early stage invasive breast cancer. Peter Littrup, MD, and Julie Shultz, MD, are the first diagnostic radiologists to join the FROST Study in Michigan. FROST is the follow-up to the landmark National Cancer Institute (NCI) sponsored study "ACOSOG (Alliance) Z1072" trial which showed 100% ablation success in all breast tumors less than or equal to 1.0 cm, 92% effective in lesions greater than 1.0 cm, and complete ablation in all cases regardless of ablation size. The Visica 2 Treatment System was the exclusive device used in the Z1072 study.
Cryoablation, also referred to as tumor freezing, uses extreme cold (cryo) to destroy tissue (ablation). Breast cryoablation has already been shown to be a safe and effective minimally invasive alternative to lumpectomy in earlier studies. "Breast cryoablation is a unique option for breast cancer therapy, with ice margins that are well visualized and can be literally sculpted to ensure thorough treatment margins. Breast cryoablation is virtually pain-free under local anesthesia and has some of the best healing profiles of any localized treatment" Dr. Littrup explained. "Having performed over a thousand cryoablation procedures in nearly any organ site, I believe that the major benefits of excellent imaging of the procedure, minimal discomfort and healing make cryoablation perhaps best suited to breast cancer applications than any other anatomic site."
After achieving good clinical outcomes with cryoablation in the treatment of benign breast lumps, the Center for Breast Health at Ascension Crittenton Hospital began offering the groundbreaking nonsurgical procedure to patients with early stage breast cancer. Dr. Shultz has devoted her career to the subspecialty of breast imaging for the early detection and diagnosis of breast disease. "I have found that the procedure is well tolerated by patients and there is a high level of patient satisfaction in the treatment of symptomatic fibroadenomas" Dr. Shultz explains. "It has been very rewarding to offer this relief to patients and I am looking forward to offering the same alternative to patients with early stage breast cancer."
To find out more about the FROST clinical study, visit clinicaltrials.gov. To find a physician who specializes in this procedure, contact Sanarus Technologies at 800-909-3060 or send an email to support@sanarus.com.
About the Physicians
Dr. Peter Littrup is board certified radiologist. He is a graduate of the University of Michigan Medical School. He received his residency training at New England Deaconess Hospital associated with Harvard Medical School and he completed a fellowship in prostatic ultrasound at St. Joseph Mercy Hospital in Ann Arbor, and was a Radiology Society of North America Research Fellow developing tumor ablation technology and imaging. He has conducted extensive research in the areas of cancer screening, ultrasound technology, biopsy guidance, and tumor ablation. He has over 100 publications and holds numerous patents for cryoablation technology and ultrasound tomography.
Dr. Julie Shultz, MD, is board certified diagnostic radiologist and Medical Director of Breast Imaging at the Center for Breast Health at Ascension Crittenton Hospital She graduated from Wayne State University School Of Medicine, having over 15 years of diverse experience, especially in diagnostic radiology. She previously Implemented/Directed Breast cryoablation program for benign fibroadenomas at Karmanos starting in 2013. She has performed nearly 100 ultrasound guided breast cryoablation procedures to-date. Both Dr. Littrup and Dr. Shultz will help lead the newly established Crittenton Tumor Ablation Program.
About Ascension Michigan
In Michigan, Ascension operates 15 hospitals and hundreds of related healthcare facilities that together employ more than 26,000 associates. Across the state, Ascension provided almost $230 million in community benefit and care of persons living in poverty in FY2017. Serving Michigan for over 140 years, Ascension (http://www.ascension.org) is a faith-based healthcare organization dedicated to transformation through innovation across the continuum of care. As the largest non-profit health system in the U.S. and the world's largest Catholic health system, Ascension is committed to delivering compassionate, personalized care to all, with special attention to persons living in poverty and those most vulnerable. In FY2017, Ascension provided more than $1.8 billion in care of persons living in poverty and other community benefit programs. Ascension includes approximately 150,000 associates and 36,000 aligned providers. Ascension's Healthcare Division operates 2,500 sites of care – including 141 hospitals and more than 30 senior living facilities – in 22 states and the District of Columbia, while its Solutions Division provides a variety of services and solutions including physician practice management, venture capital investing, investment management, biomedical engineering, facilities management, clinical care management, information services, risk management, and contracting through Ascension's own group purchasing organization.
About Sanarus Technologies
The Visica® 2 Treatment System was first available for cryoablation of fibroadenoma. Since then, our system has been used to successfully treat thousands of patients. The Visica 2 Treatment System is FDA-cleared for the ablation of cancerous or malignant tissue and benign tumors. At Sanarus, we develop innovative solutions for the nonsurgical treatment of breast tumors. We are headquartered in Pleasanton, CA, and all our products are manufactured in the USA. Find out more about cryoablation at http://www.sanarus.com.