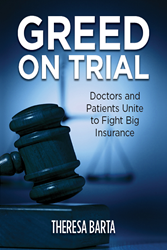 We must ask ourselves, as a people and a nation, the fundamental question: Whom do we really want in charge of our health care? Those interested in our health, or those interested in our money? --Theresa Barta
DALLAS (PRWEB) April 03, 2018
Greed on Trial: Doctors and Patients Unite to Fight Big Insurance (Brown Books Publishing Group), releases today, April 3, 2018. Successful trial lawyer and physician's advocate, Theresa Barta, exposes the truth behind today's medical landscape.
"Whether you are a doctor or a patient, you will come away from reading this book with a better understanding of how modern health care is being 'managed' in ways that serve the bottom line rather than public health," says Barta.
In Greed on Trial, Theresa Barta follows three true stories of doctors who fight back against the insurers/medical management companies and win. Through her page-turning narrative, Barta pulls back the curtain on the complex world of doctors who struggle to care for their patients while being told to comply with company regulations. Patients will begin to learn that doctors are not to blame for our current "health crisis." Profit has become the priority and insurance companies ask doctors to cut corners, double-and triple-book appointments, pressure doctors to prescribe older, cheaper medication, and limit the number of tests and referrals they order. Often doctors that do not comply with new policies are at risk of losing their jobs or insurance affiliations.
"The abusive practices highlighted in this book are rampant in our country, and few people know about them. I hope this book will help to change that. I hope it will bring to light the fact that our doctors—whom we desperately need, especially as our population ages—are being treated like devalued pawns in today's world of corporate medicine. Doctors need our support, not our anger and resentment."
By specializing in suing insurers and health-care companies, Theresa Barta fights for good and honest doctors who strive to deliver quality health care and then find themselves terminated illegally.
"The simple fact is that profit and patient care don't go together. This system has a built-in conflict of interest. We now find ourselves in a position where patient care is dwindling and patient costs are going up."
This eye-opening book features an issue that affects everyone, from patient to medical professional, and will ultimately change the way health care is viewed.
"We need to be aware that there are not only laws that protect doctors from retaliation, but also medical principles that safeguard patients' rights and protect their ability to receive health care without interference from insurers and health-care systems. We must ask ourselves, as a people and a nation, the fundamental question: Whom do we really want in charge of our health care? Those interested in our health, or those interested in our money?"
For more information on Theresa Barta and Greed on Trial, visit http://www.barta-law.com/thebook.
About The Agency at Brown Books (ABB)
As a sister company of Brown Books Publishing Group, The Agency at Brown Books is backed by more than 20 years of publishing excellence, leveraged in the first full-service public relations, marketing, branding and distribution provider within a publishing house. The Agency provides high-level public relations, marketing and distribution services for not only Brown Books authors, but also non-affiliated authors, all within the same house. For more information, please visit http://www.TheAgencyatBB.com.
About Brown Books Publishing Group (BBPG)
Founded in 1994 as an Entrepreneurial Publisher for Entrepreneurial Authors®, Brown Books Publishing Group was established to fill a need in the publishing world by allowing authors to have a voice in the publishing process while retaining the rights to their intellectual property. Applying this innovative Relationship Publishing™ model, Brown Books has cultivated a prestigious stable of authors, from New York Times bestsellers to Pulitzer Prize winners and more. Boasting hundreds of high-quality books across genres, Brown Books is a fiercely independent publisher that encourages author empowerment. In 1994, Brown Books ushered in A New Era in Publishing™, and more than two decades later, continues to be a successful innovative leader in the publishing industry. For more information, please visit http://www.BrownBooks.com.