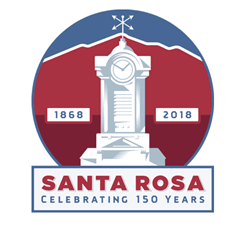 "It's just amazing to see how our community has bounced back after the fires. Our local business owners and residents are letting the world know that Santa Rosa is here to stay, and we've got more for visitors to see, eat, drink, and do than ever before," says Visit Santa Rosa's Brad Calkins.
SANTA ROSA, Calif. (PRWEB) April 10, 2018
Last October, the wine country wildfires brought national attention to Santa Rosa; nearly six months later, in recognition of its 150th birthday, Visit Santa Rosa wants travelers to know that not only is Santa Rosa open for business―it's flourishing, with new businesses abounding and a stronger community than ever. In addition to celebrating what's new, Sonoma County's biggest city will honor its history through a series of lively sesquicentennial events taking place throughout the year, culminating with a town celebration in September.
"It's just amazing to see how our community has bounced back after the fires. Our local business owners and residents are letting the world know that Santa Rosa is here to stay, and we've got more for visitors to see, eat, drink, and do than ever before," says Visit Santa Rosa Executive Director Brad Calkins.
Evidence of Santa Rosa's prosperity and abundance is all around; just this month, it was ranked as the 8th highest well-being community in the nation by the Gallup-Sharecare State of American Well-Being 2017 Community Rankings. And the city itself is not the only one celebrating a milestone this year. A favorite destination for endurance athletes and physical fitness enthusiasts, Santa Rosa's two major races turning ten: Levi Leipheimer's GranFondo and the Santa Rosa Marathon, which is a Boston qualifier. The Save The Redwoods League celebrates its centennial anniversary with a new online trip-planning tool called ExploreRedwoods.org and a Free Second Saturdays program, a partnership with California State Parks that offers free day passes to 40+ redwoods parks around the state on the second Saturday of each month.
With much to celebrate and a consistent promise of more to come, Santa Rosa is certainly one of the most exciting travel destinations of 2018.
What's New in 2018
The Astro Motel – What was once a run-down motor inn has been reborn as Santa Rosa's hippest new lodging option. The motel features authentic Mid-Century Modern furniture, art by local artisans, and an on-site bike repair shop complete with their very own "bicycle sommelier" for servicing cycling enthusiasts. This month the Astro Motel was featured on the Travel Channel's list of "10 Roadside Motels You'll Actually Want to Stay in on Your Next Road Trip."
Gerard's Paella ​– This month, Gerard Nebsky--whose paella famously won on ​Throwdown with Bobby Flay ― gets a new brick-and-mortar home in downtown Santa Rosa, where he'll serve his signature dish along with Spanish tapas.
The Jade Room Wine Bar + Oysterette – Downtown Santa Rosa welcomes a new contender for best happy hour. The Jade Room will serve sparkling wine, oysters, cheese, charcuterie and small plates. Purists may order bubbles by the glass while adventurous foodies can play mixologist―adding herbs, citrus and fruit to their wine.
Perch and Plow​ – Overlooking the recently-unified and renovated Courthouse Square, Perch and Plow serves International farm-to-table small plates, signature craft cocktails and an extensive list of beer and wine served in a hip, contemporary setting.
The Parish Cafe – The North Bay purveyor of all things New Orleans will open a second location in downtown Santa Rosa. Featuring homey charm, Southern comfort, and a menu that's pure French Quarter, the Parish Cafe will highlight beignets, po'boy and muffuletta sandwiches, and the best café au lait west of the Big Easy.
Miracle Plum – An artisanal neighborhood market and kitchen in historic Railroad Square, Miracle Plum offers a welcoming space with highly curated pantry items, fresh staples from the dairy and farm, beautiful kitchen wares, as well as a seasonal menu of prepared food.
Chicago Style Pizza with a Twist – Specializing in traditional and authentic Indian Style pizza using fresh vegetables and healthy spices not found in traditional pizzas. Chicago Style Pizza with a Twist introduces a blend of Indian and Italian cuisine, combining flavors from the best of both worlds.
Beer Baron – Featuring 30 carefully curated tap beers, 300+ brands of exquisite whiskey, craft cocktails, and small bites, Beer Baron offers patio seating and stays open late in Santa Rosa's burgeoning downtown culinary scene.
Sweet T's – Reborn again after the October wildfires, Sweet T's is in the process of reopening in a new location. Featuring popular signature Southern dishes from grits to ribs, Sweet T's is adding a wood-fired grill to their famous barbecue lineup. More so, guests can expect a return to the Southern hospitality and the "oh, so good" 'que Sweet T's is known for.
2 Tread Brewing Company – Occupying over 10,000 square feet of space downtown in the Santa Rosa Plaza, 2 Tread has a big indoor-outdoor patio with lounge seating, picnic tables, and dining areas, and plenty of bike parking. Beer styles vary, including the brewer's takes on classics, from cream ales to IPAs and modern farmhouse ales.
How to Celebrate 150 Years with Santa Rosa:
Time Capsule Opening Reception
March 24, 2018; 1-5 p.m.; History Museum of Sonoma County
Two time capsules were buried in Courthouse Square at the town's Centennial Celebration in 1968. The contents of those time capsules will be on display for public viewing at this historic exhibit. Beer, wine and light appetizers will be served at the reception; an anthropologist will speak at 2:30 p.m.; and a documentary showing of Santa Rosa: The Chosen Spot will begin at 3:30 p.m. Contents will be displayed throughout the summer at the museum.
The Luther Burbank Rose Parade and Festival
May 19, 2018; Parade 10 a.m.-12 p.m.; Festival 11 a.m.-4 p.m.; Downtown Santa Rosa
A time-honored tradition in Santa Rosa and Sonoma County and one of the oldest and largest continuously occurring events in Northern California, the parade and festival will celebrate its 124th year with a theme of Together We Rose. This year's theme acknowledges the impact of the devastating fire storms of 2017, which will become another historical moment in Santa Rosa's 150-year timeline. Award-winning floats, marching groups, non-profit organizations, and school bands will fill the streets with themed entries as they honor Together We Rose and Santa Rosa's strength as a community. After the parade, the fun continues with a festival in Downtown Santa Rosa. Enjoy family fun activities, music, and a variety of food booths.
Official Sesquicentennial Celebration
September 8, 2018; 3-10 p.m.; Courthouse Square
Local bites, live music and historical displays will come alive during the city's official Sesquicentennial Celebration. The community is invited to participate in children's activities, the burying of a new time capsule, speeches from civic leaders, an 8:00 p.m. movie showing and more. For more information on Santa Rosa's Sesquicentennial Celebration, visit santarosacity150.com.
Information about what to see, do, eat, drink, hike, bike and explore in Santa Rosa is available at visitsantarosa.com.
For media inquiries, please contact Marcella Thompkins at (213) 985-1011 or
marcella@mccuecommunications.com.
About Visit Santa Rosa
Located 55 miles north of San Francisco, Santa Rosa, California is the happening hub for all there is to see, do, eat, drink, hike, bike and explore in Sonoma County. Santa Rosa is the biggest city in Sonoma Wine Country, but the vibe is as welcoming as a small town. Central to Sonoma County's 400+ wineries, Santa Rosa is also just 30 minutes from the stunning coast and even closer to California's majestic redwood trees. Home to an impressive array of world-class restaurants and craft microbreweries, some of the best bicycling routes in the U.S., the Charles M. Schulz Museum, Luther Burbank Center for the Arts – and so much more – Santa Rosa has a little something for everyone.
Visit Santa Rosa is a partnership with the Santa Rosa Metro Chamber, providing assistance to visitors and groups seeking information about lodging, dining and entertainment opportunities in Santa Rosa. It also operates an Official California Welcome Center and helps to bring major events to Santa Rosa, such as the IRONMAN Santa Rosa triathlon. For more information, call (800) 404-7673 or (707) 577-8674 or go to visitsantarosa.com.
MEDIA CONTACT :
Marcella Thompkins
McCue Marketing Communications
marcella@mccuecommunications.com
(213) 985-1011