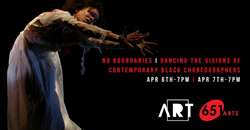 "No Boundaries" is a love letter to Black dance history through its celebration of solos crafted by today's leading Black choreographers.
BROOKLYN, N.Y. (PRWEB) March 29, 2018
Brooklyn-based 651 ARTS has teamed with RestorationART to present a history-making presentation of Gesel Mason Performance Projects' (GMPP) "No Boundaries: Dancing the Visions of Contemporary Black Choreographers", April 6-7, 2018 at the Billie Holiday Theater.
For the past 15 years, GMPP founder Gesel Mason has created a love letter to Black dance history through "No Boundaries"' celebration of solos crafted by such leading Black choreographers as Alvin Ailey American Dance Theater's Robert Battle and Dianne McIntyre. In its final presentation, the one-woman performance will feature solos by Mason, Donald McKayle, David Roussève, Bebe Miller, Jawole Willa Jo Zollar and Rennie Harris, along with a newly commissioned piece by Kyle Abraham.
"'No Boundaries' has become a bridge between the past and the present," said Mason. "I believe there is something vital about embracing our legacies and our stories to learn from as we forge new paths into the future work."
Through this project, Mason has become a living archive and testament to these choreographers' works. Now, the performances, themselves, will be filmed and preserved to create an historical archive commemorating their legacies along with interviews, dance shorts and documentation of selected choreographies.
"Mason has not only cultivated a diverse body of work that spans the Diaspora, she has literally placed that body upon herself," said 651 Arts executive director Shay Wafer. "We are excited to be part of this history-making event to contribute to what we hope will be a growing archive of such works as these by African-American choreographers."
"No Boundaries" also marks the first time 651 ARTS has partnered with RestorationART for this presentation. That both are historically Black-owned organizations producing this historic Black dance performance is not lost on Wafer.
"It is our deliberate intent to foster relationships that spark larger conversations around dance and the arts."
"No Boundaries: Dancing the Visions of Contemporary Black Choreographers" will take place Friday and Saturday, April 6-7 at 7pm in the newly renovated Billie Holiday Theatre, located at 1368 Fulton Street Brooklyn, NY 11216. Tickets are $25 for general admission; $20 for students and seniors. It is produced, in part, with support from the National Performance Network/Visual Artists Network Artist Engagement Fund and contributions from the Doris Duke Charitable Foundation, Mertz Gilmore Foundation, Con Edison, NYC Department of Cultural Affairs, the Andrew W. Mellon Foundation and the National Endowment for the Arts.
For more information or to purchase tickets, please visit http://www.651arts.org/on-stage/event/no-boundaries-dancing-the-visions-of-contemporary-black-choreographers.
About 651 Arts
It is the mission of 651 ARTS to deepen awareness of and appreciation for contemporary performing arts and culture of the African Diaspora, and to provide professional and creative opportunities for performing artists of African descent.
About Gesel Mason
Gesel Mason is a choreographer, performer, educator, and arts facilitator. She is Artistic Director for Gesel Mason Performance Projects and has been Assistant Professor at the University of Colorado Boulder since 2013. She was a company member of Liz Lerman Dance Exchange and Ralph Lemon/Cross Performance Projects. She has also performed with Ririe-Woodbury Dance Company, Repertory Dance Theatre of Utah, and under the direction of Chuck Davis, Jacek Łumiński (Silesian Dance Theatre), Murray Louis, and Victoria Marks. The live performance of No Boundaries received support from the National Endowment for the Arts and New England Foundation for the Arts' National Dance Project. Recently, Mason received a Map Fund grant for her project antithesis, which premiered at Dance Place in 2017. In 2011, she was one of six choreographers selected by the Joyce Theater for a Rockefeller Residency Initiative. In 2007, Mason received the Millennium Stage Local Dance Commissioning Project from the John F. Kennedy Center for the Performing Arts and the Washington Performing Arts Society's Pola Nirenska Award for Outstanding Achievement in Dance in 2009.