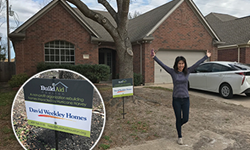 HOUSTON (PRWEB) April 02, 2018
BuildAidHouston.org, a new nonprofit initiative of HomeAid Houston, provides Houston homeowners much-needed home repairs following the devastation from Hurricane Harvey. Working in collaboration with Greater Houston Builders Association builders, BuildAid offers materials and contractors, at cost, to significantly reduce the price of rebuilding for homeowners. In addition, BuildAid offers grant funding and flexible, low interest payment options to help eligible homeowners pay for these repairs.
The organization was created with a $1 million commitment from the David Weekley Family Foundation which quickly grew with additional donations of construction managers and funding from five other builders, including Taylor Morrison/Darling Homes, Partners in Building, Trendmaker Homes, Chesmar Homes and Empire Communities. Other donors include Newmark Homes, Holcomb Properties, Land Tejas Development Company, Perry Homes Foundation, Memorial Drive Presbyterian Church and the Brad Williams Family.
To celebrate the completion of a recent home, a welcome home party is being held by BuildAid and the partner builder David Weekley Homes for Katy-area homeowner Olivia Thornton, who has been out of her home for seven months following Harvey.
BuildAid is also the recent recipient of a $5.5 million grant from the Hurricane Harvey Relief Fund, which was established by Houston's Mayor Turner and Harris County Judge Emmett. These funds play a critical role in BuildAid's effort to rebuild homes across Houston.
WHO: Guests slated to attend and available for interviews: David Weekley, chairman of David Weekley Homes; Bette Moser, executive director of HomeAid; Chris Yuko, director of BuildAid; and Olivia Thornton, homeowner.
WHEN: 9 a.m. on Wednesday, April 4, 2018
WHERE: 20810 Grenoble Lane, Katy, TX 77450
AGENDA:
9:00 a.m. - Welcome and overview of program from Chris Yuko, director of BuildAid
9:05 a.m. - Bette Moser, executive director of HomeAid
9:10 a.m. - David Weekley, chairman of David Weekley Homes
9:15 a.m. - Homeowner remarks
9:20 a.m. - Ribbon cutting
9:25 a.m. - Reveal of home
9:30 a.m. - Refreshments, photos and interviews
About HomeAid Houston
HomeAid Houston, a 501(c)(3) charity was started in 2003 by the leadership of the Greater Houston Builders Association. Since then, 47 projects have been completed, impacting over 1500 beds and adding $13.5 million dollars in real estate construction and improvements to Houston's homeless community. Annually, HomeAid's projects serve over 5000 homeless men, women, children and veterans in Houston. For more information, visit our website at Homeaidhouston.org.
About David Weekley Homes
David Weekley Homes, founded in 1976, is headquartered in Houston and operates in 23 cities across the United States. David Weekley Homes was the first builder in the United States to be awarded the Triple Crown of American Home Building, an honor which includes "America's Best Builder," "National Housing Quality Award" and "National Builder of the Year." Weekley has also appeared 12 times on FORTUNE magazine's "100 Best Companies to Work For®" list. Since inception, David Weekley Homes has closed more than 80,000 homes. For more information about David Weekley Homes, visit the company's website at http://www.davidweekleyhomes.com.