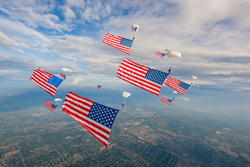 RIVERSIDE, CA (PRWEB) April 06, 2018
March Field turns 100 in 2018 and an amazing show is planned for the celebration. The two day airshow is free to the public, April 7th and 8th. According to the event site, gates open at 8 a.m. each day, flying starts at 11 and the show ends following the USAF Thunderbirds' performance at 4 p.m.
This year's events will include one of Team Fastrax's most amazing aerial shows. Each day of the airshow will feature a coordinated aerial feat that is rarely done and only performed by Team Fastrax™, a patriotic display like none other that includes TEN large American flags. The performance will include American flags in the following sizes: One 8,000 sq. ft., one 5,000 sq. ft., one 3,000 sq. ft., one 2,000 sq. ft., one 1,800 sq. ft., three 1,100 sq. ft., and two 500 sq. ft.
"This is the perfect venue for our special 10 American flag patriotic performance," said Team Fastrax™ founder John Hart. "The March Field Air & Space Expo is a wonderful family friendly aviation celebration, and we're thrilled to be a part of it. What better way to say Happy Anniversary."
ABOUT TEAM FASTRAX™
Team Fastrax™, sponsored by SELECTiON.COM®, is the most ambitious professional skydiving team in the world. The team has a roster of more than thirty-eight active members, with a collective of more than 300,000 skydives. Team Fastrax™ has performed exhibition skydives all over the world for audiences large and small as a patriotic display or as a product promotion.
ABOUT SELECTiON.COM®
SELECTiON.COM® is a nationwide provider of criminal and pre-employment background screenings, also referred to as a Consumer Reporting Agency. Headquartered in Cincinnati, OH, SELECTiON.COM® is a veteran-owned company that has been in business since 1991 and offers more than 35 background and data collection services.