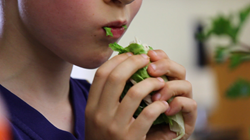 Restoring Balance: Autism Recovery is a community of hope where families with children on the spectrum can find encouragement, practical suggestions and stories of recovery.
LOS ANGELES (PRWEB) April 10, 2018
Restoring Balance: Autism Recovery is an online educational program for families with children on the spectrum. Ryan Hetrick, the creator of the project is an autism and brain trauma specialist who's spent the last few years focused on "autism recovery" with diet and environmental interventions.
Hetrick recently announced a documentary film project by the same name in the final stages of editing that captures the success of practitioners and families using the methods. Real life stories are included that changed his personal perspective and showed him that autism is actually a medical condition with behavioral symptoms, and that when diet and environmental interventions are used, recovery is possible. It also includes a series of interviews with medical professionals finding success in the field.
"I've seen many families suffer without this practical information, and after I've seen the difference first-hand behaviorally in children that have been treated medically, I am compelled to spread the good news about the tools that have helped them to live the dream of more independent lives" - Ryan Hetrick
The families featured in the documentary are located throughout the United States, and their stories – combined with animation, statistics, news stories and interviews with a range of medical professionals - take viewers into the lives and bodies of children with autism, and the way that toxins and food can affect their ability to achieve harmony, and most importantly shows how positive change CAN occur with proper treatment.
The project is sponsored in part by From the Heart Productions, Dr. Alisa Wolfe of Actors for Autism, and four time Emmy nominated animator Charlie Canfield has also joined the project. The film is set to premiere at the Autism One conference in Chicago in May 2018.
Hetrick is also currently collaborating with Pasadena-based producer Shanna Forrestall of Forrestall Consulting, visual artist and life coach Charrise McCrorey of Be Wildly Happy and recognized singer/songwriter Jeff Gold of Jeff Gold Music to create unique visual and musical assets to support the online community and documentary project.
To learn more about this project, the online community that supports families with members on the spectrum, the upcoming documentary film - or to become part of the solution, visit Restoring Balance: Autism Recovery.
Autism is an epidemic, and in the United States it currently affects 1 in 36 children, with projected estimates (by a MIT Senior Research Scientist) of 1 out of 2 children being affected by 2025.
Follow the project on Facebook at http://www.facebook.com/restoringbalanceautism.