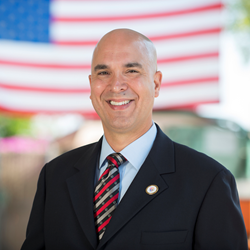 This partnership illustrates Facebook's commitment to supporting veterans in transition and strengthening the manufacturing sector in America.
SAN DIEGO (PRWEB) April 03, 2018
Workshops for Warriors®, a nonprofit school that trains, certifies and helps place veterans, Wounded Warriors and transitioning service members into advanced manufacturing careers, today announced its partnership with Area 404, Facebook's hardware lab in Menlo Park. Facebook is donating $250,000, along with advanced CNC (Computer Numerical Control) machinery to support machining and welding training programs for the nonprofit school. The partnership is expected to contribute significantly to Workshops for Warriors growth strategies, as well as foster mentoring opportunities from the Area 404 team.
Founded in 2008, Workshops for Warriors is a California licensed, board governed, fully audited 501(c)(3) nonprofit school that offers classes in advanced CNC manufacturing, computer-aided design and computer-aided manufacturing (CAD/CAM) programming, welding/fabrication and machinery repair at no cost to veterans. Graduates of the program earn nationally recognized portable and stackable credentials in CAD/CAM programming, CNC machining and welding. Upon successful completion of the 16-week classroom and hands-on training, students earn credentials from top industry organizations such as the National Institute for Metalworking Skills, Mastercam University (computer-aided manufacturing), SolidWorks (computer-aided design) and the American Welding Society.
Workshops for Warriors solves two systemic issues: rebuilding America's advanced manufacturing talent workforce and ensuring transitioning service members and veterans successfully transition into a viable, upwardly mobile civilian career.
"As we continue to grow and expand nationwide, it's essential that our students train on the best equipment and are exposed to employment and training opportunities with leaders in the industry," said Hernán Luis y Prado, CEO & Founder of Workshops for Warriors. "This partnership illustrates Facebook's commitment to supporting veterans in transition and strengthening the manufacturing sector in America. Area 404 is at the forefront of next-generation technology and we are honored to have their support."
Area 404 is a 22,000-square-foot hardware lab where Facebook mechanical engineers design, build and test prototypes or specialized tools. The lab features CNC machines, 3D printers and large format waterjet machines, enabling the company to manufacture its own prototypes.
"At Facebook, we believe that veterans create immense value and impact every day," said Ray Santos, Area 404 engineer at Facebook. "We are thrilled to partner with Workshops for Warriors to educate veterans in hardware development and manufacturing —something we are passionate about in Area 404."
Workshops for Warriors is the leader in advanced manufacturing training for veterans in the United States. The program is a nationally scalable and repeatable model that enables veterans and transitioning service members to overcome employment obstacles and enter into lucrative careers as welders, fabricators, CNC machinists, CNC mill and CNC lathe operators, computer aided designers and CNC programmers throughout America.
Since 2011, Workshops For Warriors has trained and certified more than 457 veterans, Wounded Warriors and transitioning service members, earning more than 2,809 nationally recognized third-party credentials. In 2017, 94% of Workshops for Warriors graduates obtained jobs in advanced manufacturing after completing their programs.
About Workshops for Warriors
The mission of Workshops for Warriors is to provide quality hands-on training, STEM educational programs and opportunities to earn third party nationally recognized credentials to enable veterans, transitioning service members, and other students to be successfully trained and placed in their chosen advanced manufacturing career field. To learn about enrollment or donating to help support the program and its mission, visit https://workshopsforwarriors.org . Additional information can be found on our Facebook and Twitter pages.