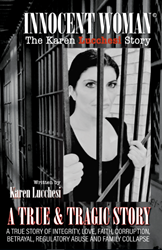 LOS ANGELES (PRWEB) April 03, 2018
On Monday, March 19th, 2018, Karen Lucchesi released her memoir, "Innocent Woman, The Karen Lucchesi Story," detailing the harrowing real-life story of how she was framed for laundering money and faced a 10-year prison sentence. Shortly after its release, the book became a #1 best-seller and is currently one of the top-selling biographies by a woman on Amazon.
"I was framed for laundering money, says Lucchesi, "My choices? Take a plea deal for probation and face up to six months in jail, or go to trial and face up to 10 years in prison. What would you do? I believed that Americans were innocent until proven guilty, but are we merely guilty until proven innocent?"
Lucchesi states, "Reliving this part of my life was brought on by my father's last stroke and the realization that it was time to speak out about regulatory abuses, freedom of speech, and our so-called justice system. It was not just for my case, but for the many others who suffer every day because of similar circumstances. This can happen to anyone."
Karen continues to explain, "I believe that releasing the past is extremely important, and forgiveness is paramount and good for the soul. I read that holding a resentment against someone is like you personally drinking poison and expecting the other person to die! That is so true! You're the one who suffers; the other person goes (probably) merrily on their way, oblivious to the pain you hold from them. What goes around comes around, and I've learned that to live my life to my best ability, I have to move forward with positive energy and excitement. One day at a time.
"I hope to inspire others with my memoir," says Lucchesi, "No matter what challenges in life you come across, you can overcome them with faith, passion, determination. The justice system I believed in let me down. My family suffered. My reputation was battered. My business destroyed, but I was not broken."
To learn more about "Innocent Woman, The Karen Lucchesi Story" please visit Karen's website, her Barnes and Noble page, or her Amazon page.