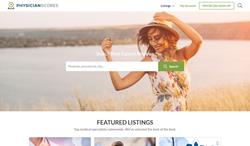 Our goal is to help consumers make an educated decision when choosing a health care provider
LOS ANGELES (PRWEB) March 31, 2018
As part of its continuing efforts to highlight expertise and excellence in the medical field, PhysicianScores.com takes pride in recognizing the top doctors nationwide. The physicians honored represent various specialty areas of care including plastic surgery, dentistry, dermatology, bariatrics and more.
This recognition is given to physicians that have achieved and sustained outstanding results for their patients over time and continue to set themselves apart from their peers. To be considered on this list, the doctor must meet PhysicianScores.com rigorous criteria, which includes maintaining a consecutive 5-star rating on their website and having good standings on other review portals such as Yelp and/or Google.
"We believe this helps educate consumers about the top physicians in their area and allows them to make an informative decision when choosing a health care provider", said Chris Johnson, CEO of PhysicianScores.com. "From reputable, well-known, and renowned doctors to the lesser known physicians of today, these are some of the best-of-the-best in the medical field."
To give a glimpse into the lives and specialties of some of these top doctors, PhysicianScores.com has profiled their top 10. Just to name a few is pain management and weight loss doctor, Dr. Payam Kerendian, facial plastic surgeon, Dr. Cory Yeh, Fairbanks dentist, Dr. Rebecca Cave, St. Charles periodontist, Dr. Tricia Crosby, Burbank physician, Dr. Bruce Stark and Woodland Hills urgent care specialist, Dr. Hamid Mirshojae. To see a full list please visit PhysicianScores.com.
About PhysicianScores.com
When it comes to health care, expertise and knowledge are crucially important. Many times patients have a hard time finding the best doctors in their area who can deliver the best care. PhysicianScores.com is one of the most recognized identifiers of the nation's top doctors in every medical specialty. The website brings a deep knowledge of the medical community to millions of people by delivering immediate, highly personalized and relevant reviews of doctors.