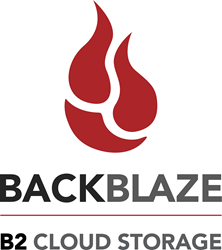 The combination of performance and price offered by this partnership enables me to create an entirely new business line. - Gabriel Memgatti, Co-founder, SlicingDice.
SAN MATEO, Calif. (PRWEB) April 03, 2018
Backblaze, the leading provider of high performance, affordable cloud storage, announces its Compute program via partnerships with Packet and ServerCentral. Backblaze B2 Cloud storage has directly connected to the compute providers - offering customers low latency and free data transfers.
Traditionally, cloud vendors charge fees for customers to move data outside the "walled garden" of that particular vendor. These fees reach upwards of $0.10 per gigabyte (GB). This tax on customers accessing their own data restricts users from taking advantage of less expensive or better performing options. With free transfers between B2 and Packet or ServerCentral, customers now have a predictable, scalable solution for compute and data storage while avoiding vendor lock in.
"Many cloud users realize too late that traditional vendor pricing schemes are meant to lock in customer data. In our industry, it's known as data gravity and Dropbox just saved $74 million by avoiding it with their move off of AWS," said Jacob Smith, co-founder of Packet. "The question we had was 'how can we democratize that Dropbox effect?' The answer was clear - directly connecting with Backblaze's B2 Cloud Storage offering."
Chris Rechsteiner, VP of Marketing at ServerCentral, shares the sentiment - "What's happening
here is the power of independent cloud providers offering better solutions to customer problems.
Customers of ServerCentral or Packet, using B2 for storage, will find no pricing tiers or hidden
taxes. What they will find is upwards of a 50% discount from their EC2 bill while maintaining
industry leading performance standards. They will find they have choice on how to solve
whatever IT challenge is facing their organization."
"With over a decade of building the lowest-cost cloud storage, we're proud to be able to
profitably offer customers storage at ¼ of the price of S3," noted Gleb Budman, CEO of
Backblaze." Mr. Budman continued, "Our partnerships with Packet and ServerCentral now
enable us to jointly support a variety of new uses and customers. Both providers offer world
class compute offerings. And, by charging $0.00 for transfers between Backblaze and our
Compute Partners, customers choose what's best for their particular workload."
"The combination of performance and price offered by this partnership enables me to create an
entirely new business line. Before this offering, the economics of the cloud would have made
our business simply unviable," noted Gabriel Menegatti, co-founder at SlicingDice, a serverless
data warehousing service. "Knowing that transfers between compute and B2 are free means I
don't have to worry about my business being successful. And, with download pricing from B2 at
just $0.01 GB, I know I'm avoiding a 400% tax from AWS on data I retrieve."
About Backblaze
Backblaze delivers astonishingly easy and low-cost cloud storage and backup services. The
Backblaze B2 Cloud Storage platform, at just $0.005/GB/month for data storage and $0.01/GB
for data retrieval, offers developers, IT professionals, and MSPs, the lowest total cost, high
performance cloud storage anywhere on the planet - less than 1/4 the cost of all other leading
providers. Backblaze has delivered affordable cloud storage services for over 10 years,
currently manages over 500 petabytes of data from customers in over 150 countries, and is one
of the fastest growing technology companies in the US. For more information on Backblaze
please visit http://www.backblaze.com.
About Packet
Packet is the leading bare metal cloud for developers. Its proprietary technology automates
physical servers and networks without the use of virtualization or multi-tenancy - powering over
60k deployments each month in its 20 global datacenters.
Founded in 2014 and based in New York City, Packet has quickly become the provider of
choice for leading enterprises, SaaS companies, and software innovators. In addition to its
public cloud, Packet's unique "Private Deployment" model enables companies to automate their
own infrastructure in facilities all over the world.
Packet is a proud member of the Open19 Foundation, as well as the Cloud Native Computing
Foundation (CNCF), where it donates and manages the CNCF Community Infrastructure Lab.
Additionally, Packet supports many open source projects, including Memcached.org , NixOS,
Docker, and Kernel.org.
About ServerCentral
ServerCentral is an IT infrastructure solutions provider. Since 2000, leading technology, finance,
healthcare, and e-commerce firms have chosen ServerCentral to design and manage their
mission-critical IT infrastructure in data centers across North America, Europe, and Asia.
Whether it's colocation, managed services, infrastructure as a service (IaaS), or cloud,
ServerCentral designs the optimal solution for each client. Learn more by visiting
https://www.servercentral.com or contacting sales@servercentral.com.