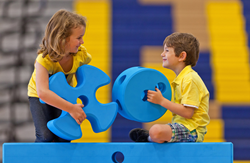 The next stop of the Spring Learn & Play Tour will take place from 10 a.m. to 6 p.m. on Saturday April 7th, and 12 p.m. to 6 p.m. on Sunday, April 8th at the Children's Museum of Houston.
NEW YORK (PRWEB) March 30, 2018
Imagination Playground, LLC, creators of the breakthrough, block-based play system that transforms children's minds, bodies and spirits through self-directed, creative free play, announced today that it will feature their popular Big Blue Blocks in Houston as part of the company's 2018 Spring Learn & Play Tour.
The 17-city tour, in partnership with some of the finest Children's Museums and Science Centers throughout North America, launches seasonally in the hopes of spreading the company's larger mission of illustrating the powerful benefits of unstructured, child-led free play. Studies have shown this type of play helps to create strong connections between both sides of a child's developing brain. It bridges together emotional as well as intellectual capacity, along with the kind of skills necessary for functioning in the world as a cooperative problem solver and inclusive team member.
Imagination Playground wants to transform the lives of children, parents, educators, caregivers, researchers and leaders by uniting them in a community of advocates who believe in the importance of creative free play. Using their innovative signature building blocks, kids will create, and collaborate for a joyful and inspiring time. They will learn how to work together and how to let their imaginations run wild. It'll even encourage parents to get down on the floor with their kids, join in on the fun, and get their own lesson in creative problem solving and democratic play.
"The Children's Museum of Houston is excited to bring families this opportunity to unleash their children's creativity and ingenuity," said Keith Ostfeld, Director of Educational Technology and Exhibit Development at the Children's Museum of Houston. "Imagination Playground's building blocks with their open-exploration and inquiry-based approach to learning enriches families' experiences at the Museum while building 21st century learning skills and generating interest and excitement in STEAM."
The next stop of the Spring Learn & Play Tour will take place from 10 a.m. to 6 p.m. on Saturday April 7th, and 12 p.m. to 6 p.m. on Sunday, April 8th at the Children's Museum of Houston. The event will bring together children and adults from all walks of life to enjoy true playtime and witness firsthand the excitement and inspiration that unleashes when children get to see their imaginations turn to reality in front of them.
"Through playing with and building their own worlds with our Big Blue Blocks, it starts a fire for these kids to realize their own dreams and make their thoughts and visions turn to reality," said Dave Krishock, President of Imagination Playground. "We are honored to be part of such a great team here in Houston and realize together the shared vision of helping children to reach for the stars and realize their unlimited potential as they grow up in this world."
In addition to the fun, children age 2 to 10 will have their first opportunity to submit their creations to Imagination Playground's 2018-2019 Build-A-Thon contest during the Houston event. Now in its fourth year, Imagination Playground's Build-A-Thon allows kids to submit photos of their captivating designs by web or through the official Imagination Playground 3D app, available on both iPhone and Android. Between now and March 2019, children will have an opportunity to submit their designs for a chance to win special prizes, including a meet and greet with David Rockwell, the renowned inventor and designer of Imagination Playground, in New York City. For submission guidelines, please visit http://www.imaginationplayground.com/promotions/build-a-thon/index.html.
The Learn & Play Tour will visit 17 cities in North America, including San Francisco, Seattle, Chicago and New York. Beyond receiving teaching credit for their attendance, educators will receive a Small Block Sample Pack. And families will receive a pop-out Mini Playground for attending. To RSVP for the Houston Learn & Play event, please visit https://form.jotform.com/80637548584166. For more information and a schedule of events, visit http://www.imaginationplayground.com/mission/learn-play-tour.html.
About Imagination Playground, LLC
Imagination Playground creates unique, innovative playground equipment systems for use in schools, children's museums, parks, daycare centers, camps and hospitals. The company's patented blue blocks allow children to create play spaces, animals, robots, rocket ships or any other structure or object that kids can imagine.
Their breakthrough play space concept was developed to encourage child-directed, creative free play. The kind of play that experts say is critical to children's intellectual, social, physical, and emotional development. Invented by architect and designer David Rockwell and the Rockwell group, Imagination Playground enables children to play, dream, build and explore endless possibilities. Imagination Playground finds its home in daycare centers, kindergartens, elementary schools, children's museums – and science, nature, discovery centers, camps, community centers, children's hospitals, hotels and resorts, public parks and more – in North America and over 70 countries around the world. For more information, visit http://www.imaginationplayground.com