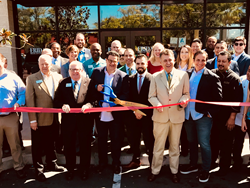 CERRITOS, Calif. (PRWEB) March 30, 2018
Los Angeles-based FRIMEX Hospitality Group, owner of Frida Mexican Cuisine restaurants, celebrated the ribbon cutting and official Grand Opening of its Cerritos restaurant on Monday, March 26, 2018, accompanied by local business leaders and guest of honor Consul General of Mexico in Los Angeles, Carlos Garcia de Alba.
Frida Cerritos, which opened its doors in fall of 2017, is the fourth Frida restaurant opened by FRIMEX Hospitality Group. The 6,000 square foot space has a seating capacity of 250 and was designed by Los Angeles-based interior design group, Ideation Architecture. The design concept was inspired by some of Mexico City's most notable restaurants and the interior blends modern and upscale elements with unique art, décor and bright colors, while keeping with the traditions of Mexico. Frida Restaurants are the vision of Founder and CEO, Vicente del Rio.
The location of the restaurant is centrally located amongst some of Cerritos' most prominent business' such as the Cerritos Auto Square Mall and Cerritos Mall. The Cerritos restaurant is a showcase for Frida's artisanal and traditional fare from south of the border. Guests can enjoy an assortment of beautifully prepared dishes including standouts such as rib eye tacos, pescado a la talla, arracherra nortena, tableside guacamole and ceviche tasting with freshly handmade tacos.
"We are very excited and privileged to be here in the beautiful city of Cerritos," FRIMEX Hospitality Group CEO Vicente Del Rio told the gathering of business leaders and members of the Cerritos Regional Chamber of Commerce. "It's great to make new friends here and we are very fortunate to be part of this special community." Del Rio added: "Our customers and other local businesses have been so friendly and helpful in welcoming us to the area and we are so grateful."
Scott Smith, President/CEO of The Cerritos Regional Chamber of Commerce and many local business and community leaders from around the city joined in the celebration of the ribbon cutting ceremony and helped in making this a momentous day for all.
"We've waited a long time for Frida Cerritos to open its doors and when they did we as a community welcomed them with open arms. The food is excellent, the service is impeccable and we are thrilled to have a restaurant such as Frida Mexican Cuisine in our city and them be a part of the Cerritos community."
Guest of honor Consul de Alba praised Del Rio for his dedication to building up the FRIMEX business and for providing many jobs. "These guys are working hard. They really care about quality food and good drinks," he said. "Thank you so much for helping us bring authentic, good Mexican food to Southern California and for helping to create work for so many deserving individuals in Cerritos and in all of the other Los Angeles communities." Noting that Frimex Hospitality Group recently opened its fifth restaurant located in Sherman Oaks, CA, in February 2018, de Alba added: "Let's keep working hard altogether for the benefit of California and the benefit of Los Angeles and Mexico."
The Cerritos location is an extraordinary milestone for Mexico City native del Rio, who launched his flagship Frida restaurant over 15 years ago in Beverly Hills; a stone's throw from Rodeo Drive and which today remains one of the most upscale and consistently busy Mexican restaurants in Beverly Hills. Frida Mexican Cuisine Cerritos is located 20 miles south east of Downtown Los Angeles at 11169 183rd St. Cerritos, CA. For reservations or to book a private event, please call (562) 403-3666. To learn more about Frida Cerritos, please visit http://www.FridaRestaurant.com.
Instagram - @fridamexicancuisine
Facebook - @FridaMexicanCuisine
Media Inquiries:
Cavalry PR - Sophia Paliov Tel: (949) 525-5022
Cavalry PR – David Thompson Tel: (310) 484-4952
ABOUT FRIMEX HOSPITALITY GROUP
FRIMEX Hospitality Group was established in 2010 soon after the launch of their flagship restaurant FRIDA in Beverly Hills in 2002. Since its launch, FRIMEX Hospitality Group has grown close to 300 hundred employees with a total of five Frida restaurant locations which include: Frida Westwood, Frida Torrance at Del Amo Fashion Center, Frida Cerritos at Plaza 183 and the just opened Frida Sherman Oaks. The FRIMEX Hospitality Group are also the creators of their taco-focused establishments, Frida Tacos (3 locations), and Taco Libre where they offer quick and affordable Mexican food with authentic flavors. For more information about Frida Mexican Cuisine please visit http://www.fridarestaurant.com. For more information about FRIMEX Hospitality Group please visit http://www.frimexgroup.com.