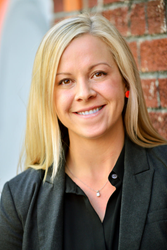 PORTLAND, Ore. (PRWEB) April 03, 2018
Propeller, a management consultancy whose clients include leading organizations in the energy, manufacturing, healthcare, financial services, technology and retail industries, today announced that practice director Rachel Crocker has been recognized as a "Rising Star of the Profession" by Consulting Magazine. The award will be presented at an April 19 ceremony in Chicago.
Since joining Propeller in 2015, Rachel has driven organizational growth and engagement for clients across a variety of industries. She leads Propeller's Change Management practice, which enables organizations to successfully achieve transformation, and is an acknowledged thought leader in the industry.
"Rachel has continued to deliver exceptional results for our clients while driving internal value and efficiency," said Amy Weeden, managing partner and co-founder of Propeller. "She is not only a rising star on our team but in the consulting profession as a whole."
Fueled by a passion to improve, learn and engage, Rachel is active in community service efforts and partners with Mercy Corp NW to host small business counseling events for new entrepreneurs.