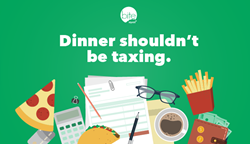 MINNEAPOLIS (PRWEB) April 03, 2018
Tax Day is almost here! Bite Squad, the online and mobile food delivery service, is honoring the end of tax season with a tax break special. Whether hungry customers are celebrating because they've already filed or are still scrambling to wrap things up, Bite Squad is offering 7.5% off* delivery orders on Tuesday, April 17. To take advantage of the one-day deal, customers nationwide can simply enter the promotional code "TAXDAY18" when placing an order at http://www.bitesquad.com or on the Bite Squad app.
"We're always looking to make our customers' days better," said Chief Marketing Officer Craig Key. "On what is often a stressful day, we'll bring people something good to eat, right to their door or desk, plus we're offering a little tax-day relief with a discount."
*Enter code TAXDAY18 at checkout for discount. Valid for 7.5% off delivery and catering orders of $20 (subtotal) or more on 4/17/2018. No cash value. Not valid towards tax, tip or booking fee. One per household. Cannot be combined with any other offer or discount.
About Bite Squad
Bite Squad is a leading independent provider of online and mobile food ordering and delivery services in the United States. Founded in 2012, in Minneapolis, Minnesota, Bite Squad partners with local restaurants across more than 30 metropolitan areas to deliver fresh food straight to the customer's door, quickly and hassle-free. To learn more about Bite Squad or to download the top-rated Bite Squad mobile apps, visit bitesquad.com.