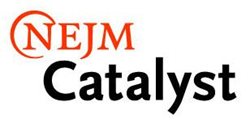 "There is much to learn about how to make it easier for patients to engage in healthy behavior at higher rates."
DURHAM, N.C. (PRWEB) April 02, 2018
Many health problems, including some chronic diseases, result from intractable human behavior and habits. Health care providers have come to recognize behavior change as a complex challenge that involves not only patients, but also clinicians and communities.
Conversations about behavior change begin with the principle that clinicians should not assume they know how to incorporate patients' values into medical decisions. Behavioral science has yielded insights into how to increase the likelihood of sustained health – and why some changes are extremely difficult.
On Wednesday, April 4, at 1–5 p.m. ET, NEJM Catalyst, Duke Clinical Research Institute, and Duke Margolis Center for Health Policy will host a free, live web event, Patient Behavior Change: Building Blocks for Success. Participants will learn techniques for effective behavior change, what changes are achievable for better health, and which barriers to target.
"Many patients live in challenging social or economic circumstances and don't prioritize their future health, clinicians aren't well-trained to help patients engage in risk reduction behavior, and the health care system tends to focus on treating disease and not preventing it," said event chair and NEJM Catalyst Patient Engagement Theme Leader Kevin Volpp, MD, PhD, of the University of Pennsylvania "There is much to learn about how to make it easier for patients to engage in healthy behavior at higher rates."
The event will include three separate sessions, with viewers encouraged to submit questions online. The sessions are:

Creating Behavior Change: How Clinicians Should Engage Patients
Scaling Behavior Change: Community-Based Strategies
Sustaining Behavior Change: Making It Effortless
Join us for insightful presentations, real-world case studies, and an interactive Q&A session with our industry-leading experts. On stage will be:
Sara Bleich, PhD, Harvard Chan School of Public Health
Angela Fagerlin, PhD, University of Utah
Gary Foster, PhD, Weight Watchers International, Inc.
Thomas H. Lee, MD, MSc, Press Ganey Associates, Inc.; NEJM Catalyst
Namita Seth Mohta, MD, NEJM Catalyst; Brigham and Women's Hospital
Victor M. Montori, MD, Mayo Clinic
Eric D. Peterson MD, MPH, FAHA, FACC, Duke Clinical Research Institute
Kathryn I. Pollak, PhD, Duke School of Medicine; Duke Cancer Institute
Roy Rosin, MBA, Penn Medicine
Peter Ubel, MD, Duke University and Event Host
Kevin Volpp, MD, PhD, University of Pennsylvania; NEJM Catalyst Theme Leader for Patient Engagement and Event Chair
Charlene Wong, MD, MSHP, Duke Clinical Research Institute, Duke-Margolis Center for Health Policy, Duke University
Registrants will also get a free copy of the NEJM Catalyst report, Measuring What Matters and Capturing the Patient Voice. Drawing from a roundtable discussion among clinicians, researchers, a patient advocate, and editors, as well as a NEJM Catalyst survey, this report provides a framework for defining the patient voice and integrating it into care delivery.
NEJM Catalyst offers a combination of multimedia content, web events, expert panels, and new research. NEJM Catalyst connects health care executives, clinical leaders, and clinicians with practical approaches and actionable steps to implement changes in their organizations that improve the value of health care delivery and patient care.
To participate in Patient Behavior Change: Building Blocks for Success, register online at NEJM Catalyst. On Twitter, use the hashtag #PatientEngage18.
About NEJM Group
NEJM Group creates high-quality medical resources for research, learning, practice, and professional development. Designed to meet the demand for essential medical knowledge and innovation among academic researchers and teachers, physicians, clinicians, executives, and others in health care, NEJM Group products include the New England Journal of Medicine, NEJM Journal Watch, NEJM Knowledge+, NEJM Catalyst, NEJM Resident 360, and NEJM 医学前沿 (Yi Xue Qian Yan). NEJM Group is a division of the Massachusetts Medical Society. For more information, visit nejmgroup.org.
Contacts
NEJM Group
Jen Zeis, 784-434-7186
jzeis(at)nejm(dot)org