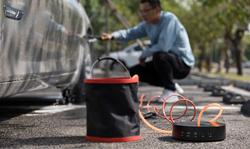 The perfect car kit for summer travelers.
SAN FRANCISCO (PRWEB) April 09, 2018
Motivated to set a new standard in the vehicle accessories market, a highly experienced team at Norshire has created the most advanced multifunctional 4-in-1 Car Kit that combines a power bank, jump starter, warning sign, and car wash system all into one single portable device to make life easier and save over $500 per year. Despite Norshire's four powerful functions, it remains so compact it can easily fit in the trunk of a car for everyday use.
Car Wash: Norshire car washing capabilities keeps any vehicle clean without the hassle of driving through expensive car washes. Norshire has three preset modes so it can easily switch from spray gun to scrub brush to high-pressure mode for different kinds of cleaning scenarios. The CPU can intelligently control the power system and high-pressure pump, which ensures a high pressure and stable water flow. there's no need for a faucet or electricity outlet to operate Norshire thanks to its built-in rechargeable battery that powers a wash for up to one hour once fully charged. All that's needed is a bottle of water or a bucket to get any car back to a clean and shiny state anytime, anywhere. Norshire makes car washing easier and faster than ever before as it takes only fifteen seconds to set up and ten minutes to complete the wash, 80% less than the time required for traditional car washes. It's the perfect sidekick for every car owner.
Jump Starter: Norshire's jump starter capabilities are so powerful it can jump start most car types in the market up to 30 times when fully charged. Norshire's built-in rechargeable lithium battery produces a max current output of 400A and requires no external power to function. Simply plug it into any USB charging port to fully charge it within three hours for best results. No longer will a dead battery hinder long trips with Norshire as a backup.
Power Bank: Norshire also functions as a power bank to keep any phone charged up to four times longer on one full charge. Gone are the days when any family memeber should worry about running out of battery on long camping trips. Its various outlets are the perfect power source to keep all gadgets powered such as speakers, fans, tablets and night lamps.
Warning Sign: Norshire turns into a warning sign when facing a roadside emergency. Simply stand Norshire on its side to reveal a reflecting triangle that deflects any potential accidents while parked on the side of the road when changing a tire or waiting for help.
In addition to washing a car, Norshire doubles as a great gardening tool or power wash house cleaner. Made of ABS material, Norshire is resistant to shock and high temperature. With its sealing structure, it can also effectively avoid leaks. Norshire's voice indicator alerts of its battery status and whether it's charging.
Norshire consists of a built-in 11000mAh lithium battery, high pressure pump made with pure copper, and micro CPU that intelligently controls the power system and high-pressure pump, which ensures a stable water flow.
Items included in the kit are: Norshire, USB Cable, Washer Gun, Long Brush,1.5 m Inlet Hose, 5m Outlet Hose, Jump Starter Clamps, Foaming Bottle, and User Guide.
Norshire will be available starting at $99 when it launches on Indiegogo April 9, 2018, 8:00 AM PST. to access the upcoming Indiegogo Campaign please visit http://igg.me/at/norshire.
For more information please visit https://www.norshire.com/
Media Inquiries:
Gina Hughes
Public Relations Manager
Gina(at)Charmed(dot)Media