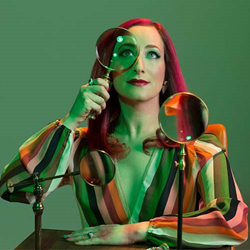 "I am absolutely thrilled with Rachael's version of "No One Is To Blame". She has really put her own original stamp on the song. Rachael is such a great artist to be touring with. Hearing her open for me every night on my US one man show was a blast." -- Howard Jones
NEW YORK (PRWEB) April 02, 2018
Hot off her 7-week tour with synth legend Howard Jones, singer-songwriter, multi-instrumentalist and producer Rachael Sage has released her cover of Jones' song "No One Is To Blame" via Billboard. The track appears on her forthcoming album, "Myopia", out May 4 via MPress Records. Listen and share "No One Is To Blame" and pre-order the album via Pledge Music.
"I am absolutely thrilled with Rachael's version of 'No One Is To Blame.' She has really put her own original stamp on the song. Rachael is such a great artist to be touring with. Hearing her open for me every night on my US one man show was a blast." – Howard Jones
Sage tells Billboard: "No One Is To Blame has long been one of my favorite songs, and was a very big influence on me in my youth. I remember being immediately captivated by the video and identifying strongly with Howard Jones' sensitivity, along with the universality of his lyrics which were much 'deeper' than anything else on the radio at the time. I've always admired pop music that balances a beautiful melody with a poignant, positive message, and in revisiting this song, I felt that the questions it poses about blame and responsibility are more relevant than ever."
Sonically, "Myopia" is a bold departure for Sage, with a much stronger emphasis on her guitar playing over her usual piano palette, with inventive contributions by Hoboken-based guitarist James Mastro (Patti Smith, Ian Hunter) who Sage affectionately calls "the king of wah." Produced by Sage and her longtime engineer John Shyloski, "Myopia" was recorded last summer at Carriage House Studios in Stamford, CT as well as at Sage's home studio in NYC's East Village, and you can feel the swelter. The heavily electronic "Haunted By Objects" – on which Sage plays Moog synthesizer – describes the psyche of a hoarder whose only potential recourse may be to set everything on fire, while "This Darkness", a bluesy lamentation about the Dakota Pipeline, reflects the urgency and courage of Native Americans' resistance to environmental desecration; the enemy in the dark is indifference, the iciest kind of blindness.
Sage explains: "This is a warm-weather record. These are songs about getting out there, thawing things out, and unearthing the truth. Sometimes you can't do that in the dead of winter. But when the sun is shining, even the murkiest future appears hopeful."
Full tour routing can be found below and via Sage's website.
For more information on Rachael Sage, please contact:
Girlie Action Media
Pam Nashel Leto // pam(at)girlie(dot)com // 212-989- 2222 x111
Taylor Haughton // taylor(at)girlie(dot)com // 212-989- 2222 x119
MPress Records
Tiina Teal // press@mpressrecords.com // 212-481- 7243
RACHAEL ON TOUR
4/7 – Phoenix Pride - Phoenix, AZ
4/19 – Genghis Cohen - Los Angeles, CA
4/21 – Refugee House Concert - Visalia, CA
4/22 – The Monkey House – Berkeley, CA
4/26 – North City Bistro – Seattle, WA
4/28 – Concerts @ Indie Air Radio – Spokane, WA
4/30 – Rolling Hills Radio @ Shawbucks – Jamestown, NY
5/2 – Joe's Pub – New York, NY
5/4 – Burlap & Bean – Newtown Square, PA
5/5 – Atomic Tom's – Binghamton, NY
5/21 – 49 West Coffeehouse – Annapolis, MD
7/14 – Salford Pride – The Pink Picnic – Salford, UK
7/18 – St. Cuthbert's Church – Wrose, UK
7/21 – Isle Of Wight Pride – Newport, Isle of Wight, UK
7/27 – The Exchange – North Shields, UK
9/16 – Folk-N-Great Music House Concert – Rockville, MD
10/20 – ARC – Stockton Arts Centre – Stockton-On-Tees, UK
10/21 – Gorilla – Manchester, UK
10/22 – Glee Club – Birmingham, UK
10/24 – Komedia – Brighton, UK
10/25 – Jazz Café – London, UK
10/26 – The Brook – Southhampton, UK
ABOUT RACHAEL SAGE: Since founding her own label MPress Records two decades ago, NYC-based alt-pop artist Rachael Sage has steadily released a slew of vibrant, dynamic albums with poetic lyrics spanning subjects as wide as her inspirations. She has toured with an eclectic list of artists including Ani DiFranco, Beth Hart, Sarah McLachlan, Judy Collins and Howard Jones. Sage also continues to significantly grow her visibility via her many song placements, having recently landed her 22nd song on top reality show Dance Moms, translating into over 10 million YouTube hits. Her upcoming album Myopia (due May 4) is a bold departure for Sage, with a much stronger emphasis on her guitar playing over her signature piano palette. Produced by Sage and her longtime engineer, 2-time Grammy® Nominee John Shyloski, the album features drummer Doug Yowell (Joe Jackson, Duncan Sheik), keyboardist Rob Curto (Lila Downes), trumpeter Russ Johnson (Elvis Costello, Deborah Harry) and bassist Mike Visceglia (Suzanne Vega). Sage will headline a series of national shows in support of Myopia following an opening slot for Howard Jones' U.S. tour and continuing with a full schedule of performances throughout the year.