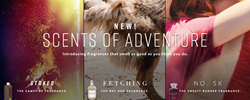 BOSTON (PRWEB) March 31, 2018
Life is Good, a Boston-based lifestyle apparel brand with a focus on spreading the power of optimism, enters the perfume category to help people smell as good as they think they do. Three new fragrances will launch Sunday, April 1st, to help optimists out there feel refreshed – or something close to it – with scents that reflect Life is Good values, including animals and the outdoors.
The limited edition line features "Fetching", which evokes the smell of your favorite four-legged friend; "Stoked", a campfire scent that'll make everyone want to sound the alarm; and "No. 5K", a fragrance for runners who want to put miles between them and the competition.
Life is Good fragrances will be available to purchase beginning Sunday, for a limited time, on lifeisgood.com.