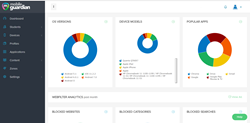 "With millions of student devices across the country, educational filtering allows students to explore the digital world safely and serves to reduce distractions, keeping students on task." Daniel Neal, CEO and Founder, Kajeet
MCLEAN, Va. (PRWEB) April 16, 2018
Kajeet®, the industry leader for safe, mobile student Internet connectivity, today announces its partnership with Mobile Guardian, a cloud-based mobile device management (MDM) provider. Kajeet, best known for its Education Broadband™ Internet access outside the classroom, brings over a decade of safe, mobile expertise into the classroom. Kajeet now offers anywhere, anytime device management with Mobile Guardian, an authorized licensee of Kajeet patents in the area of mobile device management. The Mobile Guardian MDM expands the Kajeet product offerings, delivering a complete solution for school districts to manage all student devices, supporting safe, collaborative classroom learning.
K-12 schools across the U.S. have a total of 24.3 million mobile devices, and growing, according to a 2016 EdSurge report. The Mobile Guardian MDM provides school districts the total oversight they need to manage student devices on multiple operating systems (Android™, Chrome OS™, iOS™, and macOS™), as well as create filters and profiles ensuring a safe browsing environment. Filters can be set by keywords, by allowing and blocking websites, and by age appropriate content. With the integration of geolocation services, filters can also be customized based on student location, such as on or off campus, and lost or stolen devices can be located easily. Content and curriculum management is simplified for teachers, while minimizing student distractions and increasing engagement.
"With millions of student devices across the country, educational filtering allows students to explore the digital world safely and serves to reduce distractions, keeping students on task," said Kajeet CEO and Founder Daniel Neal. "We are excited to announce our new partnership with Mobile Guardian. Their MDM solution powers educators to secure and manage student devices anywhere; ensuring students connect to learning and educators have complete insight."
Unlike other MDM platforms, the Mobile Guardian solution offers multiple school-specific interactive dashboards – district, school, teacher, and parent – based on user, providing a tailored experience and toolset.

District Dashboard: Provides school districts complete oversight into all of their schools' devices and usage, including content and application distribution.
School Dashboard: Presents schools with a drilled-down view into their devices, safeguarding student digital access and providing filtered, educational content and applications.
Teacher Dashboard: Enables teachers to share content for the day's lesson, control and limit device usage, and communicate with students.
Parent Dashboard: Allows parents to monitor device usage and understand what digital content their student is accessing.
As the digital landscape continues to evolve and technology proliferates throughout the classroom, educators will need to remain cognizant of student security. This MDM solution is flexible for the school district's needs, providing control when and where they need it.
"Managing devices across a district should not be difficult, and we have produced a tool to make the lives of educators considerably easier," said Mobile Guardian CEO Patrick Lawson. "We are thrilled about the Kajeet partnership. It brings us closer to our goal of ensuring every mobile device, in the hand of every child, is protected and its value is optimized for education."
About Kajeet®
Kajeet, the industry leader for safe, mobile student Internet connectivity powers the K-12 connected environment. Paving the way for student and teacher success, our secure Kajeet Sentinel® platform centrally manages and enables safe, online connectivity and visibility into learning. Manage student mobile devices anywhere to create an ideal learning environment. Extend the school day with Wi-Fi on the bus and Internet access outside the classroom. From school to home, Kajeet has mobile covered. Kajeet products and services, which operate on four U.S. wireless carriers, are protected by the following issued U.S. patents: 9,237,433; 9,137,389; 9,137,386; 9,125,057; 8,995,952; 8,929,857; 8,918,080; 8,774,755; 8,774,754; 8,755,768; 8,731,517; 8,725,109; 8,712,371; 8,706,079; 8,667,559; 8,644,796; 8,639,216; 8,634,803; 8,634,802; 8,634,801; 8,630,612; 8,611,885; 8,600,348; 8,594,619; 8,588,735; 8,285,249; 8,078,140; 7,945,238; 7,899,438; 7,881,697. Other patents are pending. For more information, please visit us at kajeet.com.
About Mobile Guardian
Designed for education, Mobile Guardian simplifies mobile device management (MDM) like never before. The powerful Mobile Guardian platform gives you unparalleled control and visibility over all Android, Chromebook, iOS, or macOS devices. Create safe and secure environments for your students, whenever they are online. No matter your mobile learning strategy, Mobile Guardian has it covered. For more information, please visit mobileguardian.com.
Android and Chrome OS are both trademarks of Google LLC. iOS and macOS are both trademarks of Apple Inc. Other company names, product names and marks mentioned herein are the property of their respective owners and may be trademarks or registered trademarks.
###