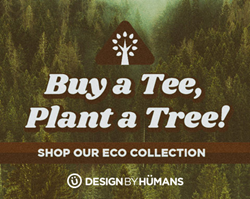 We can all agree there is nothing better on a nice day than sitting under a shady tree
CHICO, Calif. (PRWEB) April 01, 2018
Trees clean the air we breathe, house endless biodiversity, and provide us with unimaginable beauty. The more than 60,000 tree species on earth – the oldest proudly boasting almost 5000 years – provide us with immeasurable benefits. Design By Humans is teaming up with the organization, One Tree Planted, to protect this awe-inspiring natural resource. DBH hopes to encourage deforestation awareness and sustainability efforts across their global community with the "Buy a Tee, Plant a Tree" campaign.
One Tree Planted's mission – started in 2014 – aims to "create a world full of trees" by working with reforestation organizations to plant trees in North America, South America, Asia, and Africa. Design By Humans pledges that for every nature-inspired item purchased in the month of April – from the DBH Eco Collection – it will donate funds to One Tree Planted. One dollar = one tree.
The artwork in the Design By Humans Eco Collection is inspired by a commitment to the restoration and protection of Earth's abundant resources. As a community of artists, DBH is continually inspired by the natural beauty around them. Every artist is indebted to the vivid colors, exotic wildlife, and breathtaking landscapes; everything around them lends itself to artistic creation. Every design from the Eco Collection, from wildlife to floral designs, is a unique reflection of the beauty around us.
One Tree Planted works with individuals, schools, businesses, and other partners to make a better world for the next generation. The non-profit recognizes the critical situation our world is in and says, "every minute we lose 60 football fields, one football field every second to deforestation" and is working with DBH to "make it simple for people to help the environment." Both DBH and One Tree Planted understand that change can start with just one new tree in the ground.
DBH's Operations Specialist, Susannah Talbot, understands the importance of conservation. She says, "the world needs more trees, more oxygen, better air quality. I am so glad DBH is working with One Tree Planted to show that every tree can make a difference. We can all agree there is nothing better on a nice day than sitting under a shady tree." Design By Humans prides itself on being socially-conscience; it produces the highest quality apparel in California with environmentally friendly phthalate free, water-based inks. Moreover, DBH visits its main print warehouse daily to assure its apparel is free of sweatshop and child labor.
Help make a difference with DBH and One Tree Planted and join the "Buy a Tee, Plant a Tree" campaign. Change starts with just one tree.
About Design By Humans
Design By Humans offers a platform for artists, gamers, and YouTubers to create and showcase their unique artwork as phone cases, wall prints, and fashionable tees, tanks, and more. With 10 years of experience, Design By Humans has woven a shared spirit that thrives on designing vibrant and meaningful art. To learn more about the vision, please visit:
https://www.designbyhumans.com/.
DBH works to build an environment that respects collaboration, quality, integrity, and the entrepreneurial spirit. The DBH Collective is inspired by the comical as well as the abstract, the imagined and the concrete; and works to create innovative art that is an expression and a reflection of today's society.
We are gaming fiends, cat-enthusiasts, and pop culture fanatics. Most importantly, however, we are a passionate team of independent creators who buzz for the next buzz word, whistle as we work, and create designs that inspire the next generation of trendsetters from around the world.
To become a part of the Design By Humans community and submit designs today, we encourage you to visit:
https://www.designbyhumans.com/become-an-artist/ and learn more!
Follow Design By Humans on Facebook at /DesignByHumans, on Instagram at DesignByHumans with #designbyhumans, and on Twitter @DesignByHumans.