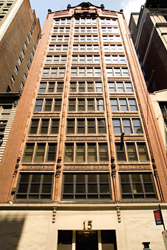 "This deal—with its below-market rent, location and footprint—will let Jay Suites offer its core private luxury office spaces with a full suite of amenities as well as flexible larger team and conference rooms to New York City companies for excellent value," Jack Srour, the co-founder and COO of Jay
NEW YORK (PRWEB) April 02, 2018
Jay Suites announced the signing of a 17-year, triple net lease at 15 West 38th Street, representing the newest addition to their portfolio of shared New York City office and coworking spaces. Located in the heart of the city's Garment District, the 12-story office tower was formerly occupied by the Hudson Bay Companies of Lord & Taylor and Saks Fifth Avenue. Upon its grand opening, Jay Suites will add 90,000 square feet to their Manhattan footprint, with 8 coworking properties situated throughout the city. It expects to have 5,000 members, factoring in the new eighth location. This recent extension of Jay Suites is set to launch in July of this year.
"This deal—with its below-market rent, location and footprint—will let Jay Suites offer its core private luxury office spaces with a full suite of amenities as well as flexible larger team and conference rooms to New York City companies for excellent value," Jack Srour, the co-founder and COO of Jay Suites, said in a prepared statement. "The deal also benefits Hudson's Bay Company as its need for underutilized space shifts." The new building will incorporate the existing coworking concept of Jay Suites while introducing branding innovations such as Jay Cafe, Jay Conference and Jay Rooftop. The fully-customizable meeting and event space will come complete with exclusive amenities and a host of community perks. Jay Suites evolution from temporary office space to dedicated large conference and event space was only a matter of time.
Juda Srour, Co-Founder and President explained, "This project is a game changer for Jay Suites. It is our largest project to date and fulfills our dream to house one of our locations in a full building in midtown Manhattan, right in the middle of our 7 other midtown locations which are already over 90 percent occupied. Importantly, this new location will be our first to offer all four signature Jay Suites venues under one umbrella."
Jay Suites at 15 West 38th will provide a variety of professional services and shared amenities. The new Jay Cafe will offer an elegant espresso bar with flavored coffees, teas and pastries for members to meet and eat on the retail level for easy accessibility. The 2nd and 3rd floors will comprise of a 22,000 square foot Jay Conference center featuring the latest in presentation technology. A total of 6 soundproof conference rooms (capacity of 20) will come fully-equipped with large screen TVs, polycom conference phones and unlimited high-speed wifi access. The modular tables with built-in ports for charging, USB, and HDMI inputs, can easily be rearranged to accommodate needs for theatre, crescent, boardroom or classroom-style setup upon request. The on-demand meeting room rentals will include on-site professional administrative and IT support.
In addition to 7 floors of fully-furnished offices and shared workspaces, Jay Suites will introduce the largest corporate event space it has to offer. The exclusive Jay Rooftop terrace can host everything from company happy hours to product launches. Jay Rooftop will serve as the perfect New York City venue with stunning views of the Manhattan skyline, starting from minimum groups of 50 and maxing out at 250 guests. Their on-site event planners will assist in coordinating corporate events from beginning to end. This will mark the third event space the Jay Suites brand has to offer, the others being at their 34th Street and Times Square locations respectively.
Jay Suites continues to improve the workplace experience for their members with appealing amenities and unparalleled hospitality. Location is an important factor when choosing office, meeting and event space, so being just minutes away from Penn Station makes Jay Suites at 15 West 38th Street an easy choice for tri-state commuters. One tour of the new location and it's clear, this isn't your typical coworking space. For more information, call (212) 569-9000 today!
ABOUT JAY SUITES
Jay Suites is a hub for New York City entrepreneurs looking to simply work better. Established in 2009, Jay Suites provides flexible, New York City private office suites for rent, virtual office plans, and on-demand hourly and daily meeting room rentals. All Jay Suites executive office suites are furnished, elegantly designed, and come equipped with state-of- the-art technology, resources, and support. Their solutions accommodate a variety of businesses across the spectrum, from lawyers and financial managers to entrepreneurs and Fortune 500 companies.In addition, members join a growing community with perks such as exclusive access to members-only meet ups.