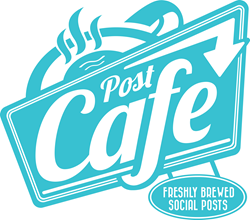 Social media is so important for REALTORS® as it helps them build their personal and business brand.
(PRWEB) April 03, 2018
Post Café, makers of the leading social media content publishing service for REALTORS®, today announces a strategic partnership with the New York State Association of REALTORS® (NYSAR).
With this news, NYSAR members can automatically share engaging content on their social media platforms, while monitoring their performance directly through the Post Cafe dashboard, thus driving greater social media ROI. This partnership was designed to revolutionize real estate marketing in a simple, automated fashion.
"Social media is so important for REALTORS® as it helps them build their personal and business brand," says Chris Mulvaney, CEO of Post Café. "Through this partnership, NYSAR members are better equipped to satisfy the emerging demands for quality content, easily connect with social media leads, nurture relationships in real time and close deals faster than ever before".
Driving this strategic partnership, Post Café brings a seamless integration for NYSAR members to tie automated social media content on today's most popular social media networks including Facebook, Twitter and LinkedIn and directly drive lead generation efforts for the first time.
Designed to help REALTORS® open the door to fresh, new ways of connecting with clients, this partnership emphasizes Post Café's commitment to offering REALTORS® an all-encompassing social media content sharing platform, which now includes the added value of lead notifications.
"We built Post Café from the ground-up to make social media marketing easier. Since launching in 2016, we have continued to expand offerings for industry leaders to be able to share content across multiple social channels. Every year it gets bigger and better."
Post Café offers multiple plan options through the partnership with the New York State Association of REALTORS® for users with varying levels of social media content and posts, including 90 days of free access to the "Single Shot" Package (one post per day). For NYSAR users with more advanced social media content needs, Post Café also offers the "Double Shot" Package of 60 posts per month for only $44.99.
----
About Post Café
Post Café is a groundbreaking social media and content service, spun off from Marketing Agency CMDS (http://www.cmdsonline.com), one of NJ's leading social media agencies. Dedicated to providing simplified social media for busy professionals, Post Café helps business owners find the time and resources to amplify their social media presence, through relevant, branded content.
How's it work? Professional, in-house writers publish industry-relevant articles on a personally branded website hub, For Sale Guides. The subscriber has access to a dashboard where they can view upcoming posts and chose the articles to automatically post on their brand's social media accounts (Facebook, Twitter and/or LinkedIn). They can skip posts or cancel at any time. The user gets full credit on the hub and a boosted social media presence to build a strong online reputation.
Post Café invites REALTORS® to sign up for a free trial using promo code: NYSAR and start posting immediately. http://www.post.cafe/realtors
About NYSAR
The Albany, NY-based New York State Association of REALTORS® is a not-for-profit trade organization representing more than 55,000 of New York State's real estate professionals. The association provides a variety of benefits including legislative and legal representation, educational programs, publications such as the New York State REALTOR® and a code of professional standards. The term REALTOR® is a registered trademark, which identifies real estate professionals who subscribe to a strict code of ethics as a member of the National Association of REALTORS®. These REALTORS® are also members of the New York Association of REALTORS® as well as their local board or association of REALTORS®.