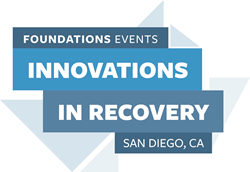 SAN DIEGO (PRWEB) April 02, 2018
Foundations Recovery Network (FRN), an innovative behavioral health treatment provider, is proud to announce their Innovations in Recovery Healthcare Conference (IIR) will return to San Diego for the eighth year in a row. The event, aimed at treatment professionals and companies, will be held April 9-12 at the historic Hotel Del Coronado.
The two keynote presentations kicking off and wrapping up the event will feature nationally recognized thought leaders on combating the opioid crisis. Former White House drug czar under the Obama administration, Michael Botticelli, will kick off the conference with a presentation drawing from his personal experiences and outlining his involvement, socially and politically, to end the stigma and improve treatment for the disease. The event's final speaker is Sam Quinones, author of Dreamland: The True Tale of America's Opiate Epidemic. He will draw from his book as well as discuss solutions for collaboration in fighting the epidemic. Between Botticelli's drug policy expertise and Quinones' background as a journalist, they provide perfect bookends to the conference.
In between the keynotes will be four days packed with presentations and an exhibit hall focused on exploring new and emerging modalities and proven approaches to substance abuse and co-occurring treatment. The event also highlights breakthroughs in complex mental health disorders and process addictions. The primary goal of IIR is to equip treatment professionals and organizations to effectively meet the needs of specialized clients and demographics, and to inform them of the latest business trends and topics impacting the industry.
In an overall effort to break the stigma of addiction in the local San Diego community, there will be a Heroes in Recovery 6K run/walk on Saturday, April 7 at De Anza Cove Park. The race will begin at 9 am and benefit local nonprofit Turning Point Home. Heroes in Recovery is a movement celebrating the heroic efforts of those who seek addiction and mental health treatment. For more information and to register for the San Diego Heroes 6K, visit Heroes6K.com.
The overall goal behind the Innovations in Recovery Conference and the Heroes 6K race is to bring together people who are affected by the disease of addiction and provide solutions and inspiration to help more people find long-term recovery.
About Foundations Events:
Foundations Events is constantly seeking to add value to the treatment and behavioral healthcare community, and one way they do this is through hosting engaging and entertaining conferences. Foundations Events has hosted 51 national conferences and has earned a reputation as the leader in behavioral healthcare events. Each year, multiple conferences are offered nationwide that focus on providing the latest information on treatment methods. The conferences are widely known and respected in the behavioral health industry for education and networking opportunities. Experts from all over the country provide unique workshops and keynote presentations on a variety of treatment subjects. Typically, conference attendees have a chance to earn between 14 and 24 hours of continuing education credits, as well as a Professionals Certificate in Behavioral Healthcare, only available through our events. Foundations Events is led by Foundations Recovery Network, an innovative healthcare treatment provider. For more information about the conference or to register, visit  FoundationsEvents.com.