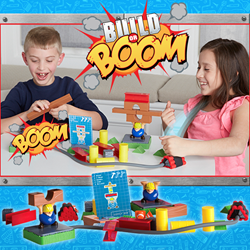 "Build or Boom is explosive fun and perfect for all ages," said David Norman, President of Goliath's North American division. "Hitting the dynamite blast pad will create endless hours of fun for kids and adults alike."
PLANO, Texas (PRWEB) April 02, 2018
Build or Boom is the newest addition to Goliath Games' skill-and-action line, available now at Walmart. This fast-paced two-player game helps build STEM skills such as analytical thinking and shape recognition. With three levels of difficulty, Build or Boom is the ultimate block stacking game for the whole family.
From its origins as a Kickstarter project, the founder was inspired to create the game in memory of his late grandfather who worked in construction. True to its roots, the main builder "Ralphie" was named in his honor and holds homage to his grandfather's career. "I wanted to continue my grandfather's legacy," said Tanner Yarro, founder of Build or Boom. "His passion for building is instilled in the gameplay."
In Build or Boom, players draw a construction card and race to stack their blocks exactly like the blueprint. Once one player has completed their structure, the player slams his or her hand on a pile of dynamite, sending their opponent's tower to the ground. The first player to 10 points wins.
"Build or Boom is explosive fun and perfect for all ages," said David Norman, President of Goliath's North American division. "Hitting the dynamite blast pad will create endless hours of fun for kids and adults alike."