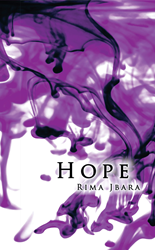 "…Jbara illustrates her ordeal in raw, powerful prose…the reader comes to realize that Hope is a tortured soul who, like many artists, is at her happiest when creating. This is an emotional, heart-wrenching read." - US Review of Books
DUBAI (PRWEB) April 03, 2018
It is often difficult for those who have not suffered from depression to understand the feeling of hopelessness and despair as felt by those experiencing it. After her own experience with chronic depression, award-winning author, Rima Jbara, was inspired to share her story through the eyes of her complex title character, "Hope" to give an inside look into the mind and struggles of a depressed person.
"Hope" is a poignant story that tackles real-life matters such as suffering, thoughts of suicide and inner turmoil. The title character, Hope, is a devoted artist who is battling internal anguish and is extremely troubled and fragile. She suffers in silence and lives her life through an illusion having eccentric habits such as loving to sit in graveyards, attempting to sleep in coffins and trusting that another version of herself exists. Her story provides a better understanding of the life of a depressed person and urges readers to rethink their perspective on mental illness.
Already receiving critical praise, a reviewer from The US Review of Books states, "…Jbara illustrates her ordeal in raw, powerful prose…the reader comes to realize that Hope is a tortured soul who, like many artists, is at her happiest when creating. This is an emotional, heart-wrenching read."
"Many of the free-verse subconscious poetry I actually experienced," said Jbara. "I wrote this book to help bring awareness and inform readers that chronic depression is a disease and needs to be taken seriously."
To learn more please visit Rima-Jbara.com.
"Hope"
By Rima Jbara
ISBN: 1-4259-1900-6
Available at AuthorHouse, Amazon, and Barnes & Noble
About Rima Jbara
Novelist Rima Jbara has been writing for over 25 years and has published 15 books. She released her first book at the age of 14, and by the time she turned 15, she gave readers her first bestseller. In 2011, Jbara won the "Writer of the Year" award for L 'Official Magazine in the Arab Women Awards. It took Jbara three years to write "Hope" which was her first book to be published internationally and has received critical praise. Through her writing, Jbara has fought tradition and reality, and has always chosen daring topics to shock conventional people. She currently resides in Dubai.
For interview requests and review copies:
LAVIDGE – Phoenix
Lauren Dickerson
480-998-2600
ldickerson(at)lavidge(dot)com