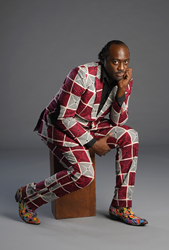 Too often, Hollywood has depicted early 19th century Chicago as a haven for gangsters while ignoring the social and cultural influence that has inspired generations of young American born people to reach for their dreams, fight for equality and achieve inclusion in all aspects of life "Kevin Watson"
LOS ANGELES (PRWEB) April 02, 2018
"Bronze Barons" is based on a fantasy comic strip that was popular among Chicago youth in the early-to-mid 20th century. This uncovered superhero strip is unique in that it offers a perspective on fun-loving, creative kids and technically advanced teens of Black America that was rarely embraced in war-era U.S.
Bronzeville was referred to as the "Black Metropolis" thanks to the Great Migration of African Americans from the south to the north. Many settled in this Chicago neighborhood where they created a new home, away from the oppression of the deep south. Residents of Bronzeville and the surrounding areas found great prosperity. Education was and still is embraced in Bronzeville. The area was home to the country's first African American female pilot, the first African American awarded the Pulitzer, co-founder of the NAACP and many artists and musicians.
Too often, Hollywood has depicted early 19th century Chicago as a haven for gangsters while ignoring the social and cultural influence that has inspired generations of young American born people to reach for their dreams, fight for equality and achieve inclusion in all aspects of life.
Kevin Watson understood the importance of Bronzeville as a significant part of African American history. A native Chicagoan born and raised in the south side neighborhood of Hyde Park, Watson knew the value of precise research; when planning and writing this underground superhero world, he rented a pre-production studio in Bronzeville. He worked on his original screenplay for three years in order to champion the best of the community while also forging a vision of a superhero tale that could be embraced by movie-goers of all races and ethnic backgrounds. Not only has Watson written the original screenplay, he has also composed the score and is tapped to direct this multi-million dollar film. As a self-confessed "superhero geek," Watson's vision is on track to be the next Hollywood blockbuster.
Kevin Watson is no stranger to the spotlight.
For more than two decades, Watson has cultivated a career that has taken him both in front of and behind the camera. As an actor, Watson has appeared in such features as "Brown Sugar," starring Queen Latifah, Watson played Bobby in the critically acclaimed, Larry Cohen directed "Original Gangsters" and he has had cameos in Oliver Stone's "Natural Born Killers" and "Somethings Gotta Give".
Behind the scenes, Watson has taken on practically every role possible in the movie making process in order to understand each level of movie-making at the highest level. He has written, directed and even served as a camera operator. But this is only a small part of Watson's long and influential career.
Watson started as a battle hip hop and house dancer, appearing in music videos and national and international television commercials. With a desire to truly expand his creative talent and technological skills, he then moved to the east coast where he studied Biomedical Engineering on an academic scholarship to Boston University. Moving to New York after college was logical, since he worked in commercials and music videos directed by acclaimed director Marcus Nispel, during his college years. Kevin went to work for Razorfish as Systems Analyst and Manager of Information Services. Razorfish is one of the world's largest interactive agencies. In his role there, Watson had the opportunity to explore hands on, creating technical solutions for clients, user security and staff at one of the most successful Silicon Valley influencer companies of that era, in a way that is rare for Hollywood directors. Razorfish offered him the direct insight into what ties customers and technologies to a product of any type. Razorfish clients included some of the world's most influential companies, such as Schwab, Casio, Christies, Price Waterhouse Cooper, while Watson was under the company's employ. Razorfish's Co founder Craig Kanarick wrote Watson's reference letter.
After Razorfish, Watson went to work with integrative advertising agency ATTIK. At only 24-years-old, Watson was Chief Technology Officer and new media director for award winning United Kingdom founded design company ATTIK. He was hired to pick his own team and start ATTIK's first interactive and new media department, which demonstrated his abilities not just to recognize talent, but also to best utilize those individuals. ATTIK was successful under Watson's tenure, as he was instrumental in securing clients like Microsoft, HBO and he and his team fully rebranded and coded solutions for MusicMatch, which then sold to Yahoo! for $160 million. During that era, Watson appeared on national Billboards and in store posters for Coors Light in a campaign called Chillicious.
After ATTIK, Watson went into digital content publishing, paving the way for the future of technology and how people consume media. He dabbled in a number of other industries. He developed his own beverage line, opened a restaurant in Brooklyn and even produced a record. All the while, Watson held fast to his true love of film.
Watson is a proud 25-year Screen Actors Guild Member and seasoned Creative Director. His desire to promote inclusion in Hollywood has helped to drive this latest venture. With influences from directors like Ava DuVernay and Jon Favreau, Watson has the ability to make "Bronze Barons" the Hollywood blockbuster from a real one the world needs.
To learn more about Kevin Watson's career,and see his creative experiments visit kevinwatsons(dot)com.