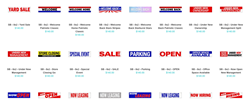 Our customers will appreciate the time savings with these pre-made styles for sales, for renting/leasing and many more topics, at affordable prices. - Fred H. Lerner, CEO and founder, MailPIx
HUNTINGTON BEACH, Calif. (PRWEB) April 10, 2018
MailPix, the photo-printing, canvas and gifting site, expanded its business-to-business and consumer banner offerings with 60 pre-made styles. The vinyl banners range in size from from 2x4 feet to 2x8 feet, and include metal grommets for secure fastening.
"MailPix offers a wide array of banners, from completely customized vinyl hanging banners and stand-up banners," says Fred H. Lerner, CEO and founder, MailPix. "Our customers will appreciate the time savings with these pre-made styles for sales, for renting/leasing and many more topics, at affordable prices."
The pre-made banners are among many business products MailPix offers, including Glossy roll-up banners, which are 33-by-79 inches and collapse down to a small compact metal case, and customized photo floor mats which are also great for small businesses, featuring full-color reproduction of photos, collages, designs or logos in several classic and square rug dimensions.
ABOUT MAILPIX.COM
MailPix.com is the pre-eminent site for printing photos instantly at thousands of retailers from phone app or PC and also offers convenient mail-to-home. MailPix preserves photo memories as photo books, canvas, prints, cards, enlargements and other photo gift products. The service is seamlessly integrated to print photos from any phone, device or computer. MailPix offices are located in Huntington Beach, Calif.
Fred H. Lerner is the founder and CEO of MailPix, his latest startup. He previously founded Ritz Interactive, which included RitzCamera.com, WolfCamera.com and others.  Fred also founded two imaging companies which were acquired by Kodak and became the CEO of Kodak Processing Labs. He is a United Nations' Hall of Fame recipient from the International Photographic Council and Past President of the Photo Marketing Association International. 
Peter Tahmin, co-founder and COO of MailPix, was the former vice president at Ritz Camera & Image and co-founder, senior vice president and COO of the Ritz Interactive e-commerce network, which included RitzCamera.com, WolfCamera.com, BoatersWorld.com and others. He brings more than 20 years of e-commerce experience and a lifetime of imaging industry experience to MailPix.