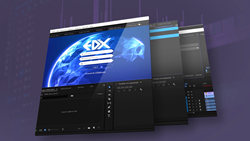 "Creatives using Adobe Premiere Pro will appreciate the ability to more easily edit their remote content," says Sue Skidmore, head of partner relations for professional video at Adobe. "The integration of the XTRMX remote editing enables teams to collaborate no matter their locations."
BEER-SHEVA, Israel (PRWEB) April 03, 2018
XTRMX a leading innovator in remote video editing and collaborative solutions, announced today that it has completed the integration of its remote-editing tool into the award-winning Adobe® Premiere® Pro CC, part of Adobe Creative Cloud®. XTRMX's next-generation product portfolio includes the innovative XTRMX media engine, xView multi-user video review, and ediX remote editing.
See ediX clip here
The groundbreaking solution offers editing of remote content stored anywhere in the world with close-to-zero latency, allowing editing of remote videos as if they were local, in a proxy-free manner.
XTRMX solution also offers an industry-first, realtime, simultaneous, multi-users, pre-rendered, review from Adobe Premiere Pro. Now producers, clients, compliance-reviewer and assistant editors can concurrently review an in-progress editing session, eliminating the time-consuming back-and-forth between users and multiple file versions.
"We're sparking a real revolution. With XTRMX, the editor can work on remote content as if it was local, regardless of the source format, size, or the content's storage. XTRMX changed the paradigm of remote-editing," explains Harel Ram, co-founder of XTRMX. "Adobe Premiere Pro users don't need to download, upload or generate proxies anymore, in order to edit their remote content."
The innovative ediX plugin for remote editing in Adobe Premiere Pro is already available via the XTRMX web site and will be available soon through the Adobe Marketplace as well.
The value to the industry is huge: It eliminates media-uploading pre-requisite, proxy generation and media-transmitting phases, and does not require any investment in infrastructure. It uses standard IP protocol to enable seamless editing and review.
"Creatives using Adobe Premiere Pro will appreciate the ability to more easily edit their remote content," says Sue Skidmore, head of partner relations for professional video at Adobe. "The integration of the XTRMX remote editing panel into Adobe Premiere Pro enables teams to collaborate no matter their locations."
Improving the Bottom Line with XTRMX Technology
The XTRMX solution brings a new concept to a market saturated with existing solutions. An editor can remote-edit any content located anywhere with extremely low-latency, and remote-render using the original high-resolution media. Powered by XTRMX media engine developed at XTRMX labs, the image quality, responsiveness and ergonomics of the platform are as if the content is available on the user's workstations, ultimately saving a significant amount of time and money. "This is a fundamental game-changer to the media industry. We designed XTRMX to become the backbone for any remote and collaborative media manipulation. With the value of the worldwide media market estimated in the tens of billions of dollars (USD), and with the potential applications in other industries, we're forecasting the earning potential of this revolution to be in the hundreds of millions of dollars," states Ram.
True Collaboration for Adobe Users
Integrating XTRMX with Adobe products, starting with the industry-leading Adobe Premiere Pro, allows video editors to edit any piece of video and multi-track audio without considering its size, location and the upload/download speed to the local storages.
"Having integrated with Adobe gives XTRMX the benefit of reaching world-wide video editors under their natural work environment." says Ram. "Adobe's presence in the professional and semi-professional video market takes XTRMX technology into new heights. XTRMX's integration in Adobe's toolset releases old chains from the content creation process and enables workflows that were not possible until now." Ram adds, "Adobe customers using XTRMX can save time and money while outputting a better end product."
Beyond Media
XTRMX solutions are optimized for any instance where content needs collaborative review and assessment. This concept extends well beyond the media/entertainment industry, offering a disruptive workflow enhancement to any discipline where content, users and systems are apart. In the AR/VR industry, designers can work collaboratively on the same model regardless of their geographical location; two doctors on opposite sides of the world can inspect, analyze and manipulate MRI DICOM results together as if they were in the same room; civil engineers, managers and clients can interact with the same construction plan, add layers, nimbly navigate through challenges and adjust plans - as if they were around the same table; and so on.
To learn more, visit http://www.xtrmx.com
About XTRMX
A leading innovator in remote video editing and collaborative solutions, XTRMX provides users with a native experience that makes versioning and the back and forth approval processes obsolete. XTRMX toolset reduces and simplifies the post-production pipeline to save time and money. xView - a leading video review tool for the pro video production market, and ediX - a solution for proxy-free and remote editing workflows, create value for creatives by enabling simultaneous & real time video manipulation. Powered by the groundbreaking XTRMX SDK media engine, these solutions simplify syncing media content and data between remote users, content and storages enabling them to work together as if they're all in the same room. Connect with XTRMX on Facebook, LinkedIn or by visiting http://www.xtrmx.com.