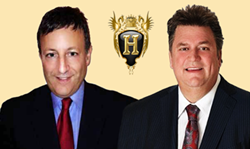 We will extremely excited to be alive during these days of unprecedented technological breakthroughs
(PRWEB) April 04, 2018
Los Angeles and Tokyo. Ronald J. Hilton, Paris Hilton's uncle, the grandson of Conrad Hilton, and son of Barron Hilton, the American business magnate, hotel heir & humanitarian, and Chuck Brooks, a former executive of the Department of Homeland Security (DHS), and renowned expert in cybersecurity & emerging technologies, to launch RJ. HILTON, a cyber-secure interoperable ecosystem of Internet of Intelligent Things (IoIT) for Fourth Industrial Revolution technologies and Blockchain/Cryptocurrencies.
Blockchain and Cryptocurrency technologies are expected to play a significant role in financing Fourth Industrial Revolution technologies such as Artificial Intelligence (AI), Machine Learning, Robotics, Precision Regenerative Medicine & wearables, Augmented Reality and other transformative technologies that converge in interoperable ecosystems of Internet of Intelligent Things (IoIT) and biometric sensors - worldwide.
The World Economic Forum estimates Blockchain/Crypto technology will comprise 10 percent of global GDP by 2027 and give rise to a new era far more disruptive and transformative than the current internet age. Governments thought leaders and technology prophets predict blockchain technology will revolutionize the -$74 trillion- world economy, and transform the $5.1 trillion per day Fiat currency-trading - the biggest industry in the world economy.
However, the greater the technology, the greater the risks. Blockchain/crypto technology will give rise to a new era of "Sophisticated cyber threats from hackers-for-hire, organized crime syndicates, and terrorists," the FBI states. "Virtually every national security and a criminal threat is cyber-based or technologically facilitated." Cybercriminals have stolen hundreds of millions and caused billions in devastating damages with a cyber-attack of just one blockchain/crypto company, and now threaten the world economy.
Impelled by these greater threats to the world economy, RJ. Hilton was established with the purpose to provide state-of-the-art secure cyber ecosystems for blockchain/crypto and Fourth Industrial Revolution technologies, which fuse the physical, digital and biological worlds in an inter-operable IoT ecosystem.
RJ. Hilton Projects:
1. To launch the RJ. Hilton Exchange: a next-generation secure cyber ecosystem platform that protects cryptocurrency exchange businesses and users from cyber-criminals.
2. To launch RJ. Hilton Regenerate: by Converging ElpisEremo's next-generation, high-resolution body health scan system [Dr. Monolithus] & regenerative technology [ELYSIUM POD], embedded and linked to wearable biometric sensors, robotics, and actuators, with voice feedback and deep learning algorithms to perform automated precise health assessment in real-time, 24 hours/365 days, in an inter-operable IoT ecosystem with advanced cybersecurity capabilities built in. RJ. Hilton's platform generates real-time, highly sensitive, valuable health data. Enables ever-smarter actionable insight to predict disease risk, while creating a world marketplace for immutable decentralized real-time health and medical data records for RJ. Hilton's Token users.
3. Humanitarianism: Develop and donate specialized health scan systems [Dr. Monolithus] to developing countries, where children with serious diseases go undiagnosed and untreated due to underfunded, understaffed, or lack-of medical institutions; to gather immutable, decentralized, real-time critical medical data, and organize medical experts to help bring relief to children's lives by reducing suffering.
"Unprecedented that blockchain/crypto, Artificial Intelligence, robotics, and powerful regenerative medicine technologies are now fusing, which are enabling technological breakthroughs at a speed unseen in human history," said James Ryan, CEO, ElpisEremo Inc. "Clearly, with the stakes so high, next-generation secure cyber ecosystems will play a critical role in the next phase of blockchain/crypto contribution to world economic growth," said Chuck Brooks, CEO, RJ. Hilton and Brooks Consulting International.
To learn more about RJ. Hilton, Chuck Brooks and ElpisEremo and receive information, please visit rjhilton.org; brooksci.com, and http://www.elpiseremo.com
Media Contacts:
Patrick Walsh
pr(at)rjhilton.org
Also: contact(at)rjhilton.org