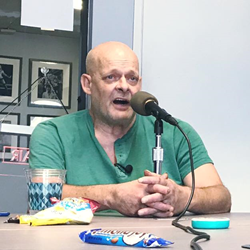 There are all kinds of Drug Dealers that got seven cell phones. Maybe he had seven people working for him and he wanted them all to have different numbers. He wanted to be an enrolled agent, an FBI agent. He always talked about carrying a gun for a living.
ENCINO, Calif. (PRWEB) April 03, 2018
This week marks the six month anniversary of the Las Vegas Shooting and incredibly we still do not know the reason Stephen Paddock opened fire and killed 58 people in Las Vegas, in the largest mass shooting in American history, or whether he acted alone. The Hidden Truth Show (http://www.hiddentruthshow.com), a podcast by RealKast media (http://www.realkast.com) which has as its mission to determine the who, what, and why of the Las Vegas Shooting, has been investigating the shooting for over three months and has produced six episodes on the shooting. Most recently, the show landed an exclusive, first ever interview with Bruce Paddock, the brother of the alleged shooter. The interview was conducted by host Jim Breslo, a former civil rights attorney. Breslo is available for interviews in order to provide expert analysis of the shooting investigation and to discuss his interview of Bruce Paddock. He has completed over 30 interviews on the subject and has released six episodes of Hidden Truth: Las Vegas Shooter thus far.
Recent developments include Mandalay Bay's released surveillance video, which shows how so many bags were moved into the room. Interestingly, however, the released footage omits any images of Mandalay Bay employees actually handling the bags. Why? In addition, while none of the footage shows Paddock with any potential suspect, only about five minutes, out of hundreds of hours of tape was released. Further, there were no cameras in the hallways so we do not know who may have entered or exited his room. Another recent development is our interview of brother Bruce Paddock, where we learn that both brothers have debilitating back issues. This, along with gambling away his fortune and losing his girlfriend, may have been the recipe for a breakdown that led to the shooting. Hidden Truth also learned that Stephen was meticulous about keeping his guns clean, and may have regularly brought guns into the Mandalay Bay. We also learned that Stephen had no contact with his conman father after being abandoned by him at a young age.
Among the many still-unanswered questions are:

What happened to the missing hard drive?
If he acted alone, why did they find seven cell phones?
Why 18 guns in the room for one person? And why did he only use two?
How did he make all of his money? He was an IRS accountant. His acquisition of 55 guns in the year prior to the shooting, ownership of two private planes, running lots of money through Vegas machines, and possession of child pornography, all raise interesting questions about what he was up to.
Is there an ISIS connection as they claim?
Did Mandalay Bay have in place any extra security in light of the concert they were promoting outside across the street with 22K people?
Why did the police provide so many conflicting timelines, and why did it take them over one hour to breach the door to Paddock's room?
Clips of the Bruce Paddock interview are available upon request. A sample clip is provided here: https://youtu.be/cilkkTmfQf0 . The full interview can be heard now on the podcast Hidden Truth Show on Apple Podcasts, Stitcher, other podcast players and at http://www.hiddentruthshow.com/las-vegas-shooter/episodes/. FoxLA conducted a six minute in-studio interview with Breslo, which can be seen here: http://www.foxla.com/news/322866143-video.
ABOUT Hidden Truth: Las Vegas Shooter:
The Show is a weekly podcast hosted by former civil rights attorney Jim Breslo which dives deeply into the largest mass shooting in American history to discover the truth. It has been months since terror struck the Vegas strip, yet we still do not know who did it, how, or why. Hidden Truth: Las Vegas Shooter seeks the answers. For more information go to http://www.hiddentruthshow.com, and follow us on Facebook at https://www.facebook.com/hiddentruthshow
ABOUT RealKast:
RealKast is a new media company based in Encino, CA specializing in podcast series production and distribution. For more information go to http://www.realkast.com
CONTACT INFO:
Christine Baroumand
info(at)realkast.com
310-849-7478