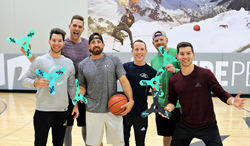 "Typically, when you think of accuracy you think of throwing something in a straight line, so I think what really surprised people was that the boomerangs were able to curve around and still strike all these objects."
CLEVELAND (PRWEB) April 03, 2018
A world champion boomerang thrower is proving that boomerangs aren't just artifacts for the wall.
Logan Broadbent, of Cleveland, OH, also known as the "Boomerang Ninja" on NBC's hit TV show "American Ninja Warrior," was recently featured on the latest episode of Dude Perfect. In just five days "Boomerang Trick Shots" exceeded 20 million views on YouTube.
A long-time member of the United States Boomerang Team, Broadbent currently ranked No. 2 in the world, teamed up with Dude Perfect and has taken the internet by storm.
Dude Perfect, an American sports entertainment group, is the No. 1 YouTube channel in America and the No. 1 sports YouTube channel in the world. The five members, which include twins Coby and Cory Cotton, Garrett Hilbert, Cody Jones and Tyler Toney, also have a highly successful show on Nickelodeon, hold numerous Guinness World Records and have garnered over 4.8 billion total views.
The video started with a trust shot where Broadbent threw a boomerang next to Jones and popped the balloon strapped to a hat on his head.
Throughout the video, Broadbent displayed incredible accuracy skills hitting a moving saucer 40 yards away, sinking a basket with his boomerang, blindly striking a gong placed behind a wall and sent a boomerang through a football goal post 70 yards away – and making the catch.
He took out lightbulbs, candlestick flames and, among the most impressive, threw his boomerang out of a bay door and had it fly back through another bay door and strike a powder-filled glass bottle.
"In boomerang competition, we throw and catch in every event, so it was a real test of the booms to hit objects mid-flight," said Broadbent, 30. "Typically, when you think of accuracy you think of throwing something in a straight line, so I think what really surprised people was that the boomerangs were able to curve around and still strike all these objects."
The Cleveland-based athlete said he threw a wide range of boomerangs, some made from carbon fiber, fiberglass, phenolic and glass-infused nylon, and a varying number of wings.
Broadbent, who is also an elite runner, triathlete and obstacle course racer, even demonstrated a backflip catch. He is the only thrower in the world who is able to perform this catch.
"It was an unbelievable experience to get to work with Dude Perfect," Broadbent said. "The DP team is just as positive, authentic and talented in person as you see on screen."
On April 29, Broadbent will travel to Indianapolis to compete for the third year in a row on "American Ninja Warrior."
But for now, he is just enjoying the Dude Perfect ride.
Broadbent said he has fielded calls, e-mails and boomerang orders from Israel, Egypt, Germany, Indonesia, Singapore and all over the United States and Canada.
"This episode has placed boomerangs on the map in a way that it's never been before," Broadbent said. "I hope it encourages new throwers around the world to get involved in this amazing sport."
For more information, visit loganbroadbent.com.
YouTube: https://www.youtube.com/channel/UCOr8puco9FtbnhjDAlj-ILw?sub_confirmation=1
Instagram: https://www.instagram.com/logan.broadbent/
Facebook: https://www.facebook.com/boomerangninja/
Contact manager Jami Kinton at jami@kintonmediagroup.com or call 419-564-0126.