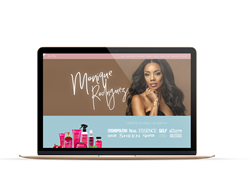 The wait is over! I finally have the opportunity to share with my loyal consumers the "woman" behind the brand!. – Monique Rodriguez, CEO and Founder
NEW YORK (PRWEB) April 03, 2018
Monique Rodriguez, Founder and CEO of award-winning beauty brand MIELLE™ on Friday, March 30, 2018 launched her highly anticipated personal brand website http://www.themoniquerodriguez.com. Over a hundred of Rodriguez's biggest supporters got a glimpse into the website during her inaugural "EmPowered" women's empowerment event this past February in the heart of her hometown, Chicago. Like the workshop the website has been established to inspire, motivate and empower women of all walks of life.
Monique Rodriguez continues to carve out a life that she loves combining her background as a registered nurse, focusing on beauty from the inside out. Visitors would learn by visiting http://www.themoniquerodriguez.com there is more to this wife, mom and entrepreneur. That Monique is resilient at pushing herself and her award-winning brand forward. Visitors will also gain tips and tools to running a successful business. The greater impact, is that people will be drawn to Monique's personality, truthfulness and her willingness to share. She is passionate about inspiring women in business, entrepreneurship and her desire to create translates throughout all aspects of her life.
To learn more about Monique Rodriguez and stay up to date on the beauty mogul visit http://www.themoniquerodriguez.com.
ABOUT MONIUQUE RODRIQUEZ
Monique Rodriguez, Mielle Organics Founder and CEO, has over nine years of experience as a registered nurse. Her background inspired Monique to share her regimen of healthy, tailbone-length hair with the masses. She is dynamic and multi-faceted with a true love and appreciation for all things beauty related. Earning the self-proclaimed title of "A True Creative Maven & Innovator", she has a vibrant media presence and has shared her brand story and entrepreneurial journey in several magazine features and national television appearances such as The Real and The Wendy Williams Show.
Monique also resides in Indiana with her husband and COO of Mielle Organics, Melvin, and their two beautiful daughters, Mia and Mackenzie.