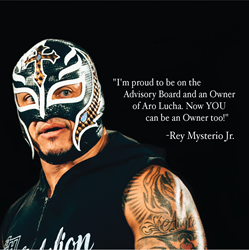 "I'm proud to be a part of Aro Lucha. Lucha Libre is close to my heart, I love performing for families and especially for Latino audiences. I think what we are doing with Aro Lucha, being fan owned, is revolutionary." - Rey Mysterio
NASHVILLE, Tenn. (PRWEB) April 03, 2018
Arolucha, Inc. is proud to announce that Rey Mysterio will star in Season 1 of Aro Lucha to be filmed later this year. Rey has a non-exclusive deal with Aro Lucha and has been announced as a stockholder in the company and on the advisory board of Arolucha, Inc. Carlos "Konnan" Ashenoff, a long time mentor and friend to Rey Mysterio, will lead the writing team for Aro Lucha's television project.
Rey Mysterio is one of the most iconic professional wrestlers in the world, both to the mass general audience and to traditional lucha libre fans. He is most well known for holding multiple WWE championship titles, for being their 21st Triple Crown winner, and the winner of the 2006 Royal Rumble. He boasts over 13.5 Million Facebook Fans and is highly regarded as the best cruiserweight wrestler of all time. He is known for his highflying, lucha libre style of wrestling.
"We're proud to have Rey as an owner in the company and on the advisory board. We see a very clear opportunity with the Latino and Hispanic market within the United States. It's very well known the growth and buying power of this base. Based on our previous shows, our research, and our digital and social media history, we connect with Latino and Hispanic families very well, along with the traditional professional wrestling audience. That's a powerful vehicle for brands looking to connect with this audience," said Jason Brown, CEO of AroLucha, Inc. "The timing was appropriate for us to also take advantage of new equity crowd funding laws to become fan owned, and to position ourselves on the onramp to developing new products while closing the relationship, and communication, gap between our company and our fans."
Aro Lucha, Inc. launched its first round of a Reg Crowdfunding offering on March 15th, 2018 after an accepted filing with the SEC. Aro Lucha has already raised over $70,000 dollars in less than 3 weeks.
"It's a real validation that other investors, fans, and the public, are investing into Aro Lucha after seeing what we have to offer, how we are positioned, what we have accomplished in such a short period of time, and who we have involved. Rey, Konnan, and the rest of the team, you don't just get people like that involved if they don't see the vision in my opinion," said Brown.
Rey Mysterio is scheduled and contracted to appear in Season 1 of Aro Lucha's television product to be filmed later this year. "I'm proud to be a part of Aro Lucha. Lucha Libre is close to my heart, I love performing for families and especially for Latino audiences," said Rey Mysterio. "I think what we are doing with Aro Lucha, being fan owned, is revolutionary. We are giving the fans something they have never had before, a voice and a chance to get in on the action."
For more investment information visit http://www.wefunder.com/arolucha
Press Contacts:
For AroLucha, Inc
Luis Quintana
press@arolucha.com
About AroLucha, Inc.
Aro Lucha is a high energy, family-friendly Lucha Libre company based in the United States. They are also The First Fan Owned Lucha Libre Sports & Entertainment Company in the World. With over 2.5 Million Social Media Engagements and Impressions over the past 4 months & a 10X growth rate in their social media following during the same time period, Aro Lucha has positioned itself as a major distributor and content creator to its digital audience. Its principals have produced over 200 hours of network television and over 100 episodes of professional wrestling that has aired on network TV.