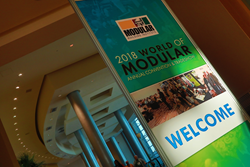 HOLLYWOOD, Fla. (PRWEB) April 03, 2018
The Modular Building Institute's (MBI) 2018 World of Modular Conference attracted nearly 900 attendees from twenty-six different countries, shattering previous records in both categories.
The modular building industry's largest and longest-running event drew hundreds of modular construction professionals to network, exchange ideas, learn from experts, discuss issues, and receive well-deserved recognition.
This year, MBI celebrated its 35th year serving the commercial modular construction industry by inducting one of its founding members, Carl Bennett of Vanguard Modular Building Systems, into the MBI Hall of Fame. Bennett was instrumental in the early formation of the association and has been a strong advocate and supporter of the industry.
Other highlights included an eye-opening keynote session from Steffen Fuchs of McKinsey & Company. McKinsey research finds that the construction industry could increase its productivity by a transformative five-to-tenfold if it were to move to a manufacturing-like system of mass production.
MBI recognized Stephen Shang of Falcon Structures and Hala Jawad of Radco Inc. as its Volunteers of the Year for their efforts on developing code language and guidance for modifying shipping containers.
Roland Brown of Ramtech Building Systems was awarded the Outstanding Achievement Award which recognizes an individual's commitment to the industry and to the association in particular.
As part of MBI's Awards of Distinction, several modular buildings were recognized. Metric Modular received the Best of Show for Green Buildings for its Yale First Nation Community Housing 6-Plex as well as Best of Show recognition in the Permanent Modular Construction category for its Key-oh Lodge. Horizon North Logistics' Vancouver Affordable Housing Agency (VAHA) 220 Terminal Avenue entry won both Best of Show for Relocatable Buildings and First Place in the Relocatable Commercial Housing category.
The Judges Choice Award, given to the entry with the highest overall score across all markets and categories, went to Modular Genius for their Loyola Bookstore & Mail Center.
Plans are already underway for next year's World of Modular Conference to be held at the Cosmopolitan Hotel in Las Vegas from March 15-18, 2019.
About MBI
The Modular Building Institute (MBI) is the international non-profit trade association serving modular construction. As the Voice of Commercial Modular Construction ™, MBI's mission is to expand the use of offsite construction through innovative construction practices, outreach and education to the construction community and customers, and recognition of high quality modular designs and facilities. For more information on MBI and World of Modular, please visit our website: http://www.worldofmodular.org