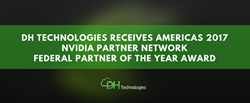 "Our team has focused on NVIDIA this year and I think that is really paying off. It's absolutely amazing the things our customers are doing with GPUs. We are working hard to get customers involved in our AI Workshops to see the value and unparalleled processing power GPUs bring to their projects."
SAN JOSE, Calif. (PRWEB) April 03, 2018
The NVIDIA Partner Network honored DH Technologies for its performance and growth in the Federal market over the past year in North America. By partnering with several NVIDIA alliance partners, DH Technologies has created demand, marketing activities, and solutions to drive adoption of GPU-accelerated NVIDIA DGX systems and virtual GPU solutions.
"I'm excited to be part of the change bringing GPU-acceleration and machine learning to our customers," said Devin Henderson, CEO of DH Technologies. "Our team has focused on NVIDIA this year and I think that is really paying off. It's absolutely amazing the things our customers are doing with GPUs. We are working hard to get customers involved in our AI Workshops to see the value and unparalleled processing power GPUs bring to their projects. We are honored to be awarded NVIDIA Federal Partner of the Year."
"GPU-accelerated environments are increasingly common for early adopters of AI in government and defense agencies," said Craig Weinstein, vice president, Americas Partner Organization, NVIDIA. "Aside from hosting AI enterprise workshops for civilian and DoD customers, DH Technologies has collaborated with MapD and SFL Scientific to drive DGX systems for Naval agency programs, and with Nutanix to include Quadro virtual data center workstation and GRID vPC in a USAF VDI pilot."