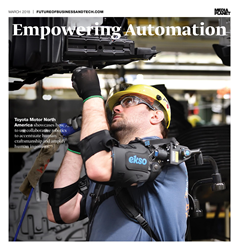 As these robots become more advanced, it will become possible where a robot is doing a portion of the work....The possibilities are unbelievable.
NEW YORK (PRWEB) April 02, 2018
Though various forms of AI, robotics and automation have existed for nearly 60 years, it is only recently that this technology has scaled to a level of accessibility that truly allows businesses and industrial leaders to leverage these robotics and software solutions. However, many fear that the widespread adoption of automation will reduce overhead by eliminating jobs from the U.S. labor market.
Mediaplanet's "Empowering Automation" campaign, created in partnership with Toyota Motors North America, serves as an educational guidebook for business and industrial leaders to understand how to obtain the maximum benefits from collaborative robotics and process automation solutions, without eliminating jobs, but instead utilizing these technologies to accentuate human craftsmanship and amplify human ingenuity.
In an exclusive Q&A on the interior, Marisol Barrero, who works as a project manager in ergonomics at Toyota Motor North America, opens up about the exciting implications of automation. She also shares why robotics in the workplace assist, rather than threaten, human innovation. "As these robots become more advanced," she notes, "it will become possible where a robot is doing a portion of the work. The possibilities are unbelievable. The key thing is we always have to have a team member around because they will come up with the ideas for ways to use them in the most optimal way."
This campaign was made possible with the support of Toyota Motors North America, Amazon Robotics, the IEEE Computer Society, Faurecia, UiPath, Blue Prism, Klarna, Nintex and more! Click here to read the full campaign.
About Mediaplanet
Mediaplanet specializes in the creation of content marketing campaigns covering a variety of industries. We tell meaningful stories that educate our audience and position our clients as solution providers. Our unique ability to pair the right leaders with the right readers, through the right platforms, has made Mediaplanet a global content marketing powerhouse. Our award-winning stories have won the hearts of countless readers while serving as a valuable platform for brands and their missions. Just call us storytellers with a purpose. Please visit http://www.mediaplanet.com for more on who we are and what we do.
Press Contact:
Kelsey Dimka
Kelsey.Dimka@mediaplanet.com
(410) 693-1007