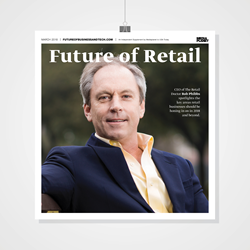 Long gone are the days of pulling out a wallet, counting out the correct cash and the cashier giving you the appropriate change. That model is antiquated and takes far too long
NEW YORK (PRWEB) April 02, 2018
Mediaplanet, an independent publisher of content-marketing campaigns, announced the distribution of its second cross-platform edition of "Future of Retail." The campaign aims to act as an educational guidebook to the modern retailer, citing the key areas retailers must look to focus on in 2018 in order to deliver incredible experiences to their customers and streamline their businesses. Mediaplanet has joined forces with North American Bancard Holdings (NAB), an award-winning leader in credit card processing and merchant services.
Starting on March 30th, featured within USA Today and on Mediaplanet's digital content hub, NAB highlights its mission to change the thinking in the industry surrounding payments. The campaign features thought leadership from Marc Gardner, CEO of NAB, who discusses the need for retailers to integrate new payment technologies within their organizations in order to provide their customers with the best possible shopping experiences. According to Marc, "Long gone are the days of pulling out a wallet, counting out the correct cash and the cashier giving you the appropriate change. That model is antiquated and takes far too long. Retailers must shift to a fully integrated experience." NAB believes that aligning yourself with the right payments party will ultimately "position businesses for seamless multi-channel integrations and long-term success."
For Mediaplanet's 2018 campaign celebrating the Future of Retail, Marc Gardner joins industry thought-leaders such as The Retail Doctor Bob Phibbs, Joe Jensen, Christina Ceresoli, and Robert Herjavec, Lori Greiner, and many more!
About North American Bancard Holdings
Founded in 1992, North American Bancard Holdings (NAB) is an innovative payment technology company that's reimagining the payment experience for the evolving merchant economy. With its own secure, international processing platform, NAB provides end-to-end transaction solutions, eliminating the need for multiple vendor relationships by combining the functionality of an ISP, merchant acquirer, gateway, front-end, and back-end processor. NAB's diversified product solutions enable all globally preferred payment methods in mobile, online, and in-store environments. As North America's sixth largest non-bank acquirer, NAB serves more than 350,000 businesses and processes more than $50 billion in electronic payments annually. For more information, visit http://www.nabancard.com.
About Mediaplanet
Mediaplanet is the leading independent publisher of content-marketing campaigns covering a variety of topics and industries. We turn consumer interest into action by providing readers with motivational editorial, pairing it with relevant advertisers, and distributing it within top newspapers and online platforms around the world.
Press Contacts
Mediaplanet:
Aaron Bernstein
Senior Publisher, Business and Technology
Aaron.bernstein@mediaplanet.com
646-922-1400