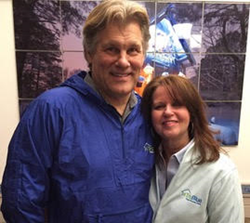 We appreciate each and every one of our customers. The ones we've been with for five years feel like family and, in some cases, we get to watch their kids grow up. Being able to build those kinds of relationship is one of the best things about being a local business owner. - Kay Diemont
YORKTOWN, Va. (PRWEB) April 02, 2018
In 2013, Kay and Tim Diemont took a chance on a new franchise called TruBlue Total House Care. The company had just launched and the Diemonts were intrigued about the idea of providing whole house care – maid, handyman, emergency services and more – to busy families and seniors in their own community. They decided to give it a shot and, now, the Diemonts are excited to celebrate the fifth anniversary of TruBlue of Yorktown.
"Tim had been in retail and I was working for an architectural firm and, as Tim was looking toward retirement, we started thinking about what our next step would be. We were looking into senior care when we learned about TruBlue Total House Care. Tim had always been a weekend warrior and can fix just about anything and TruBlue was just really getting off the ground. It was a great opportunity for us to build a company doing work we were familiar with doing, meet a need in the community and get in at the ground floor with an exciting new franchise. It's been a great five years since," Kay said.
TruBlue offers handyman services, house cleaning services, emergency repairs, seasonal projects, yard/lawn care, a home watch program, a senior accessibility program and more. TruBlue is a great option for busy families and seniors who want the comforts of their own home without worrying about property maintenance. TruBlue of Yorktown serves Yorktown, Poquoson, Newport News and properties on the Peninsula.
TruBlue of Yorktown has 20 employees, a staffed office location and 8 wrapped PT Cruisers. They've been growing at a steady rate of about 25 percent each year for the last five years – a growth rate they are hoping to continue for many years to come.
"We understand that everyone's home is their castle and we treat it that way. It's a big responsibility for someone to entrust us with their home and we don't take that lightly. Tim has lived here for 45 years and I grew up in Poquoson, so, for us, it's about more than the business. It's about our reputation in the community. We want every single client to receive the kind of service we'd expect to receive from our team," Kay said. "We have two sons who will be happy to step into this business when the time comes for us to step back, so we're always focused on growth and business development by providing excellent customer service and doing great work."
Their largest initial growth period came when Kay saw a need in military housing. Kay and Tim live almost directly between Langley Air Force Base and Fort Eustis. As the business was getting off the ground, Kay found herself wondering who cleans and repairs the military housing between residents. She decided to stop by Langley to ask. Tim is a veteran, so Kay understood the need.
"The gentleman I spoke with said that they'd add us to their vendor list. But when he asked me what TruBlue did, I said 'What do you need? We can do just about anything.' We started to talk about how TruBlue could do the house cleaning, make repairs, paint, do landscaping work… he got really excited and the rest is history," Kay said.
Over the last five years, the Diemonts have grown to serve both the military housing departments and non-military clients throughout the Poquoson, Newport News, Hampton, Yorktown and the surrounding Virginia communities. They even have about 30 clients who have been with them for five straight years – and those clients are getting gifts and champagne this year in honor of the Diemont's anniversary.
"We appreciate each and every one of our customers. The ones we've been with for five years feel like family and, in some cases, we get to watch their kids grow up. Being able to build those kinds of relationship is one of the best things about being a local business owner," Kay said
TruBlue President Greg Platz said having the Diemonts as franchisees helped TruBlue become what it is today.
"Tim and Kay are original members of the TruBlue family. We couldn't have asked for a better foundation from which to build. They truly understand customer service is the number one priority and deliver it each and every day," Platz said. "In addition, Tim and Kay also understand how important it is to give back to their community and do this through helping military families and charitable donations. They also give back to the TruBlue community as well by constantly making themselves available to newer owners, providing advice and support. I am very proud to be associated with quality people like the Diemonts."
Kay and Tim are happy to be part of the TruBlue family and are looking forward to seeing the company's continued growth.
"Being able to say you're a franchise does carry a lot of weight, especially in this field and in this area. We are locally owned and operated, but we are professional, nationally-backed, bonded, insured and specially trained. We appreciate what TruBlue has done for us and we are glad to be part of the franchise family," Kay said.
All TruBlue franchises are fully insured and bonded and all employees are background checked. To learn more about TruBlue of Yorktown, call (757)243-1297, email tdiemont@trubluehousecare.com or visit http://www.TruBlueYorktown.com.
About TruBlue
TruBlue provides one convenient and affordable solution for all your house care needs – inside and out. TruBlue's services include house cleaning, household repairs, yard work, emergency repairs and seasonal work, all handled by a personal House Care Manager. These affordable services are available year-round and customized to meet your needs and budget. TruBlue strives to provide affordable, worry-free living for seniors and hassle-free living for busy adults with the goal of eliminating the worries, hassles and headaches of home maintenance by providing full-service, trustworthy house care services to fit any budget.