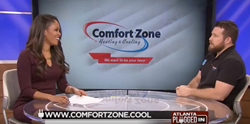 HVAC can be confusing and even intimidating to homeowners. These videos help educate consumers so they can make good HVAC decisions.
CANTON, Ga. (PRWEB) April 02, 2018
Comfort Zone Heating & Cooling has a well-earned reputation for working with its customers so they always have the information they need to keep their homes comfortable and to make informed decisions about HVAC replacements and repairs. Now Comfort Zone is bringing that information to a larger audience with appearances on Atlanta Plugged In. This spring, three 2-minute segments featuring Comfort Zone co-owners Travis Hoffmeier, Brian Schaeffer, and Stacy Watkins will air on CBS46 during April and May 2018.
Hoffmeier explains what SEER (seasonal energy efficiency ratio) is and what homeowners need to know to select a cooling system with the right SEER for their situation. Schaeffer covers how indoor air quality, not just air temperature, affects the overall comfort of a home. Watkins explains why it makes sense to replace heating and cooling systems at the same time.
Videos of the Atlanta Plugged In segments can also be viewed on Comfort Zone's website by visiting http://www.comfort-zonehvac.com/videos/. There, visitors will find Understanding SEER; How Indoor Air Quality Directly Affects the Comfort of Your Home; and Why You Should Replace Your HVAC Unit as a Whole, along with additional educational videos.
Content of all of the videos focuses on practical knowledge, rather than highly technical details.
"HVAC can be confusing and even intimidating to homeowners. Our goal with Atlanta Plugged In and our videos is to give folks solid information they can put to use to keep their homes comfortable, their HVAC equipment running smoothly, and to make smart repair and replacement decisions," says Watkins.
To learn more about Comfort Zone's products and services, please visit http://comfort-zonehvac.com/ or call 770-213-COOL (2665).
About Comfort Zone Heating & Cooling: Privately held Comfort Zone is dedicated to quality HVAC work and superior customer service. Using only skilled Comfort Zone techs – never subcontractors – the company stresses transparency and education so that residential and commercial customers can make informed decisions about heating and cooling system maintenance, repairs, and installation. The licensed and bonded company serves Cherokee, Cobb, Forsyth, North Fulton, Pickens, and parts of Dekalb, Gwinnett and Bartow counties.