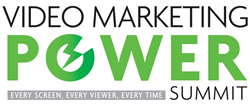 I've never seen a lineup this strong. I'm thrilled to present this conference to the video marketing community.
Medford, NJ (PRWEB) April 03, 2018
Marketers know there's no shortage of marketing and advertising conferences in New York City. So why add another one? Because none of the existing shows can deliver the vision and scale of the Video Marketing Power Summit (VMPS). And marketers love vision and scale.
The VMPS is part of the legendary Streaming Media East conference, now celebrating its 20th year by widening its scope to include the entire online video ecosystem. VMPS is both a standalone event and part of Streaming Media East. It offers attendees a deep dive into the topic they care most about, as well as a wide-angle view of the whole playing field. No other conference comes even close to matching this.
The theme of the VMPS conference is Pivot Point, because this is the point where the industry springs into the future, taking what it has learned and making big things happen in a hurry. Here's some of what attendees can expect:

Kickoff conversations from Google and Teads focus on what the future promises for online video markeing.- The IAB, Discovery Communications, GroupM, and MadHive focus on brand safety, viewability, fraud, Ads.txt, and blockchain.
Mashable, Ryot Studio, Great Big Story, and Epic Signal focus on boundary-pushing branded video storytelling.
Vimeo, The Trade Desk, and YuMe focus on running a cross-screen video campaign
Oath, Meredith Corp., and Dig Down Media focus on reaching consumers through AR, VR, and 360° experiences
Attendees get all this plus a closing keynote by Google Android/Play, and a chance to network with hundreds of their peers.
"A funny thing happened when planning the Video Marketing Power Summit," explains Troy Dreier, VMPS conference chair and the editor of video marketing site OnlineVideo.net. "I thought, 'I'm just going to ask the best people I know. No harm there. If they turn me down, I can go to the B-list or C-list, but I'm going to start with the best.' And then all the best said 'Yes!' I've never seen a lineup this strong. I'm thrilled to present this conference to the video marketing community."
The full VMPS conference schedule is online, so attendees can see exactly who will be there. There's no "to be announced" here. We've gathered the most impressive speakers from the leading video marketing companies—including agencies, brands, and publishers—and we're thrilled to show that off.
So, is there now one more video marketing conference in New York City? Nope, now there's only one.
The Video Marketing Power Summit takes place at the New York Hilton Midtown on May 9. Visit our site for the full schedule and registration information.
About StreamingMedia.com Events
StreamingMedia.com's conferences and expositions are the largest and most prestigious events in the world for the business of video and audio on the internet. Bringing together leading companies and technologies, StreamingMedia.com events are the industry's meeting place for streaming media professionals who want to learn, network, and make business deals. Executives and decision makers from all over the world attend these annual events in New York, California, and London. Focused on the "business" of streaming media in the media and entertainment, enterprise, education, and broadcast sectors, these shows are the industry's leading forum, bringing together digital media experts and professionals to exchange ideas, strategies, and success stories.