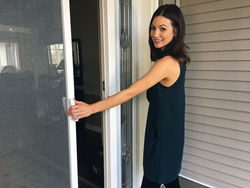 I installed it at my house and love it, my kids can finally use the screen. Overall, it is an awesome product.
SURREY, British Columbia (PRWEB) April 03, 2018
Mirage Screen Systems Inc., a leading manufacturer of retractable screening systems in North America for over 20 years, introduces the PivotPro (patent pending) handle which allows the retractable screen to be opened and closed effortlessly. In the past, all retractable screens would either need to be yanked to break the magnet closure or a latching system would need to be released. The Mirage PivotPro operates with a simple twist of the handle which allows the strong, rare earth magnet to easily detach from the closure.
Mirage continues to incorporate their superior neodymium magnet, which provides optimal application flexibility. The innovative PivotPro handle enhances the customer experience by allowing an easy release and smooth retraction of the door, providing painless entry/exit for the homeowner.
"Response to the PivotPro during testing with our dealer network has been unanimously positive, and we cannot wait to see consumers embrace this revolutionary improvement to our product. A simply designed, easy-opening retractable screen door is something the market has been seeking for some time, and it has arrived with the PivotPro," says Pete Ingram, Mirage CEO.
This groundbreaking handle is a game changer for the retractable screen industry and was released through the Mirage Dealer Network across North America on February 9, 2018. Learn more at http://www.miragescreensystems.com.
About Mirage: The Mirage Retractable Screen brand was launched in 1997 and offers reliable, high quality products along with a strong Dealer Network. Mirage custom screening solutions provide elegant insect and sun protection, climate control for homes, backyard living spaces and commercial use. Mirage Screens are proudly manufactured in North America and professionally installed by local businesses across North America. The owners, management and staff of Mirage are deeply committed to providing superior products and services to homeowners through the Mirage Dealer Network.