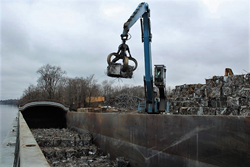 Chicago, IL (PRWEB) April 03, 2018
B.L. Duke is pleased to announce that they have been named a finalist for the 2018 American Metal Market's Steel Excellence Awards in the Scrap Metal Company of the Year category. Winners will be announced on June 26, 2018 at The Edison Ballroom in New York City, New York.
"We've worked hard over the years to deliver outstanding customer service and revolutionize the scrap metal recycling business," said Lou Plucinski, President & CEO of B.L. Duke. "It's an honor to be named a finalist among so many great companies in the industry."
Every year, American Metal Market recognizes the highest achieving companies in the steel industry for innovation and initiative across multiple categories. This year's finalists total 53 companies across 15 categories. Finalists were selected by senior American Metal Market editors, and those entries will be scored by steel industry veterans who serve as judges to select the winners. Other finalists in the Scrap Metal Company of the Year category include Ferrous Processing & Trading Company, Liberty Iron & Metal Inc, PSC Metals, Schnitzer Steel Industries Inc, Sims Brother Recycling, Triple M Metal LP, and W Silver Recycling Inc.
"We again had an outstanding response in both the quality and quantity of the nominations, reflecting the continued strengthening of the global steel industry and the innovative solutions to further increase competitiveness of individual companies and the industry at large," said Raju Daswani, chief executive officer of American Metal Market in a press release.
The recognition comes after a year of continued innovation and growth for B.L. Duke. In 2017, the company increased sales revenue by 65% and added 32 employees to their workforce. In addition, B.L. Duke recently completed plans to double their footprint with the acquisition of the Gerdau Rolling Mill next to their campus in Joliet, which will allow them to plan for additional products and services that will pass on even more cost-savings and conveniences to customers.
For more information, contact Shannon Collins, Sales Manager at sevoy(at)blduke(dot)com or visit blduke.com.
About B.L. Duke
B.L. Duke is an industry leading scrap metal recycling company in Chicago. Established in 2000, B.L. Duke has revolutionized the Chicago recycling industry through technology and transportation efficiencies to drive responsiveness and maximize client value. Learn more about B.L. Duke at http://www.blduke.com. For a fresh look at your metal recycling program, contact B.L. Duke at 773.778.3000 or info(at)blduke(dot)com.