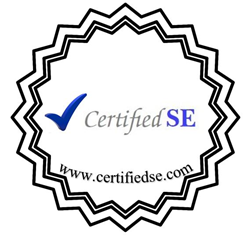 GAITHERSBURG, Md. (PRWEB) April 04, 2018
CertifiedSE.com launches its online certification platform that enables self-employed entrepreneurs who want to be self-employed and have taken actions to establish their business to efficiently demonstrate this to all clients and potential clients at once. This information is accessible to client companies at the outset, before an individual is engaged.
To celebrate its launch, CertifiedSE.com is waiving its already low annual fee of $10.99 for the initial year for the first 50 independent entrepreneurs who use coupon code PressRelease at checkout. If you are an individual entrepreneur, you should take action now, to distinguish yourself as a CertifiedSE! Client companies can notify the independent contractors with whom they do business about this incredible offer so they, too, can become a CertifiedSE!
In the present regulatory environment, where government agencies and plaintiff attorneys increasingly scrutinize independent-contractor relationships, legitimate independent entrepreneurs need an efficient means to distinguish themselves from others who have no intention of establishing an independent business and accept independent-contractor opportunities just to pay their bills.
CertifiedSE.com is the solution. CertifiedSE.com empowers legitimate entrepreneurs to demonstrate to all current and potential clients at once that they genuinely want to be self-employed and have taken steps to establish an independent business. And CertifiedSE.com's Resources page connects entrepreneurs with tools to help them grow their business and meet their tax obligations.
Government agencies and courts commonly consider whether an individual operates an independently established trade or business to determine whether the individual qualifies as an independent contractor relative to a client. Often the client has no knowledge of these facts until after an investigation has commenced or a lawsuit is filed; but then it is too late. CertifiedSE.com can eliminate this unknown!
Businesses will be able to identify CertifiedSEs using a searchable database on the CertifiedSE.com website and find out about the actions they have taken. Similarly, CertifiedSEs will be able to market themselves to potential clients by being listed in this database and directing their clients to the CertifiedSE.com website to see for themselves the actions they have taken to establish their independent business.
For more information on CertifiedSE.com and how it can help independent entrepreneurs demonstrate their independence while helping their clients mitigate their worker-misclassification risks visit http://www.certifiedse.com.
About CertifiedSE.com
CertifiedSE.com is a division of PJC Publishing LLC, which specializes in legal guides, books and other resources dedicated exclusively to supporting contingent-worker relationships.
Visit CertifiedSE.com online and follow it on Facebook and Instagram.