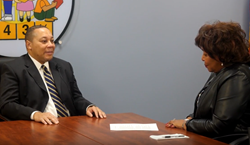 I would say to other school districts to keep an open mind and be flexible. It's about giving your kids what's best for them and looking at all avenues to do that." Dr. Anthony Edison, Superintendent of Posen-Robbins School District 143.5
POSEN, Ill. (PRWEB) April 03, 2018
Proximity Learning Inc. (PLI) and Posen-Robbins School District 143.5 are proud to announce a new partnership, implementing virtual K-12 teachers within Posen's classrooms. Posen Robbins is dedicated to empowering all students to succeed academically, which Proximity Learning's virtual environment achieves by connecting certified master teachers with their students. This partnership is another example of education taking steps towards a more progressive learning environment. Posen Robbins is welcoming 6 teachers from PLI, including bilingual math (ESL) and special education instructors who will serve students in grades 6-8.
"It is an honor to partner with Posen Robbins in their commitment to bringing academic excellence to their students," said Evan Erdberg, CEO of PLI. "Proximity Learning was founded on the idea that students everywhere should have access to the best teachers in the country no matter their economic situation or location, we are excited to connect students at Posen Robbins School District with some of the best teachers in the country during the teacher shortage crisis."
Posen Robbins Public Schools, when faced with a rising teacher turnover rate, combined with difficulty finding qualified replacements, decided to explore virtual K-12 staffing as a possible solution when the Superintendent and his executive team were introduced to the idea. The district sent their academic team to observe local districts implementing Virtual K-12 Staffing with their students to help develop an implementation plan. Posen Robbins made the decision to solidify their partnership with PLI, a top rated virtual K-12 staffing company, in 2017. PLI offers over 38 nationally accredited instructional options, ranging from Special Education to S.T.E.M classes.
Proximity Learning has been recognized by improving individual student outcomes and success, boasting a 93% course pass rate in high free and reduced lunch environments.
"The number one goal is to meet our students' needs. In doing so, we must be flexible," said Dr. Anthony Edison, Superintendent of Posen-Robbins School District 143.5.
Proximity has been very helpful in working with us to make sure they are giving us quality staff. So far, it's been a benefit to us as a district where we are provided good instruction for our kids that's helping us financially and helping our children. I would say to other school districts to keep an open mind and be flexible. It's about giving your kids what's best for them and looking at all avenues to do that."
About Posen-Robbins School District 143.5: Located in the a suburb south of Chicago, Posen-Robbins School District 143.5 is located in a highly diverse environment, serving Pre-Kindergarten through Eighth Grade students in five communities around southern Chicago. The district educates over 1,500 students. The Posen-Robbins School District 143.5 believes in using education to enable all students to develop their academic skills for a lifetime of learning. Learn more at http://www.prsd1435.org/About.aspx.
About Proximity Learning Inc.: Proximity Learning Inc. is a virtual staffing company catering to students ranging from kindergarten to high school. Proximity Learning has served over 150 school districts and delivers instruction to over 30,000 students annually, with numbers growing. Proximity Learning has been rated as one of the top K-12 Virtual Staffers in the nation, boasting the highest quality teachers, most innovative virtual classrooms, and the reputation as a flexible learning solution to both public and private school districts. Learn more: http://proxlearn.com/.